BLACK WATER COUNTY have announced that their third album, THE ONLY LIFE WORTH LIVING, will be released on 3 November ahead of their headline UK tour in November and December.
The ten track album features the band's three recent single releases – the frantic and joyous title track; the thrillingly banjo-led Cruel State Of Mind; and the hauntingly beautiful ballad Second Guessing which features dual vocals from Shan Byrom of Black Water County and Hannah Greenwood from Creeper.
THE ONLY LIFE WORTH LIVING TRACK LIST
The Only Life Worth Living
Cruel State Of Mind
Here We Are Again
Escape
Disasters
Questions
The Archives
Before Things Get Worse
Second Guessing ft Hannah Greenwood
Limelight
The album will be available on eco-friendly vinyl, with every copy being unique, limited edition orange vinyl, cassette, CD and digital, alongside a new range of merchandise.
Physical pre-orders: https://blackwatercounty.co.uk/shop/
Digital pre-save: https://distrokid.com/hyperfollow/blackwatercounty/the-only-life-worth-living
"The Only Life Worth Living spans the course of reaching rock bottom with a bank of broken hearts, to throwing caution to the wind and then cycling all the way back round again," say the band. "Our twist of folk instrumentation with modern rock entangles the collection of tracks into a whiplash of energy, while remaining loyal to the Black Water County sound."
The Only Life Worth Living is an album awash with frantic juggernauts of joyous guitars and frenetic drums, choruses that will remain long in the memory and rhythms that simply demand movement from the listener. Recorded with their close friend and long-term producer Lewis Johns at The Ranch in Southampton this is the third Black Water County album, following their debut Taking Chances in 2017 and the follow-up Comedies and Tragedies in 2020. To coincide with the album release, the band will embark on a headline UK tour, as follows:
NOVEMBER
Thu 09 NOTTINGHAM Rescue Rooms
Fri 10 LONDON Camden Assembly
Sat 11 BRISTOL Thekla
Sun 12 PLYMOUTH Junction
Thu 16 LEEDS Key Club
Fri 17 NEWCASTLE Anarchy Brew
Sat 18 GLASGOW Audio
DECEMBER
Sat 16 BOURNEMOUTH Old Fire Station
Tickets available from: www.blackwatercounty.co.uk
Hailing from the South West and now celebrating a decade of making music together, Black Water County have deviated over time from the well-trodden path of alcohol-fueled teenage insolence. Gone is the insolence, replaced by an aspiration to achieve affinity through stories of the downtrodden and the heartbroken. With a necessary touch of both spirit and spirits, naturally.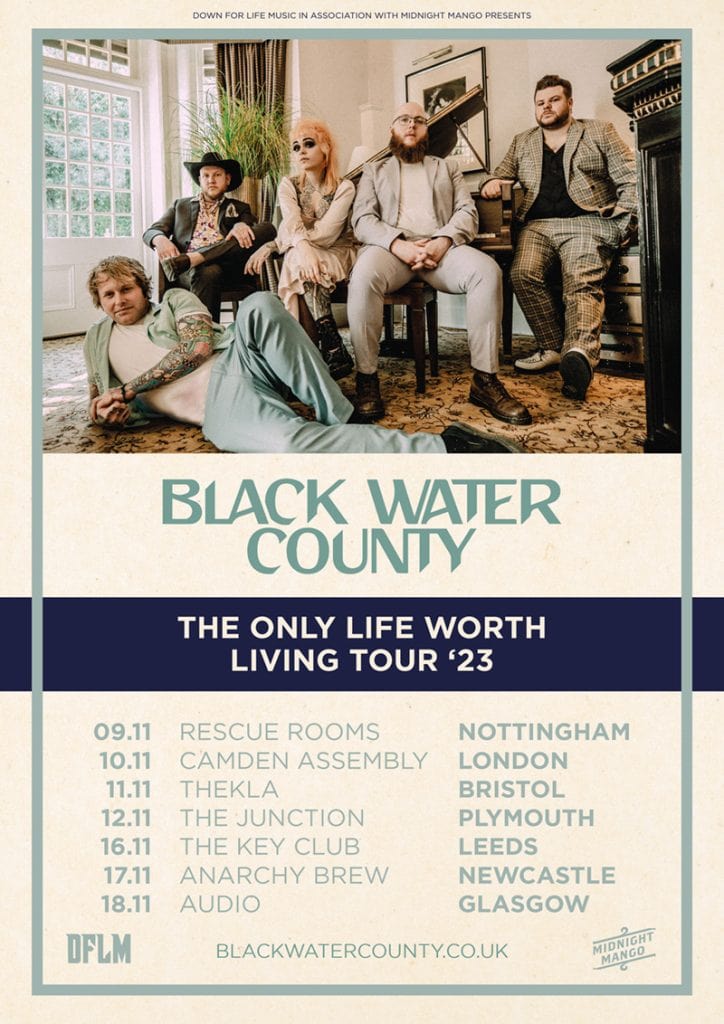 The band have shared stages with legendary acts such as Less Than Jake, Flogging Molly, The Bronx and The Skints, and their prestigious UK festival appearances have included WOMAD, Boomtown Fair, Beautiful Days, Belladrum, Black Deer, Camp Bestival, Larmer Tree, Teddy Rocks and Takedown, alongside hundreds of appearances in Germany, Belgium, Switzerland, The Netherlands and France.
BLACK WATER COUNTY: Shan Byrom – vocals and tin whistle | Tim Harris – vocals and bass | Bradley Hutchings Clarke – guitar | Gavin Coles – guitar, mandolin and banjo | Ollie Beaton – drums