Bowling For Soup are delighted to confirm that their full band global Livestream doubleheader has been rescheduled for November 7th. Originally due to take place on October 3rd, the shows had to be postponed due to frontman Jaret Reddick having to self-isolate after coming into contact with someone who had a confirmed case of COVID-19.
As all fans of Bowling For Soup know, you can't keep them down for long, and everyone is raring to go for the rescheduled shows. The shows will take place at 8pm UK time on the 7th and 2am UK time on the 8th of November (which is 3pm Eastern / 2pm Central / 12 midday Pacific and 9pm Eastern / 8pm Central / 6pm Pacific on the 7th respectively for the bands' US fans).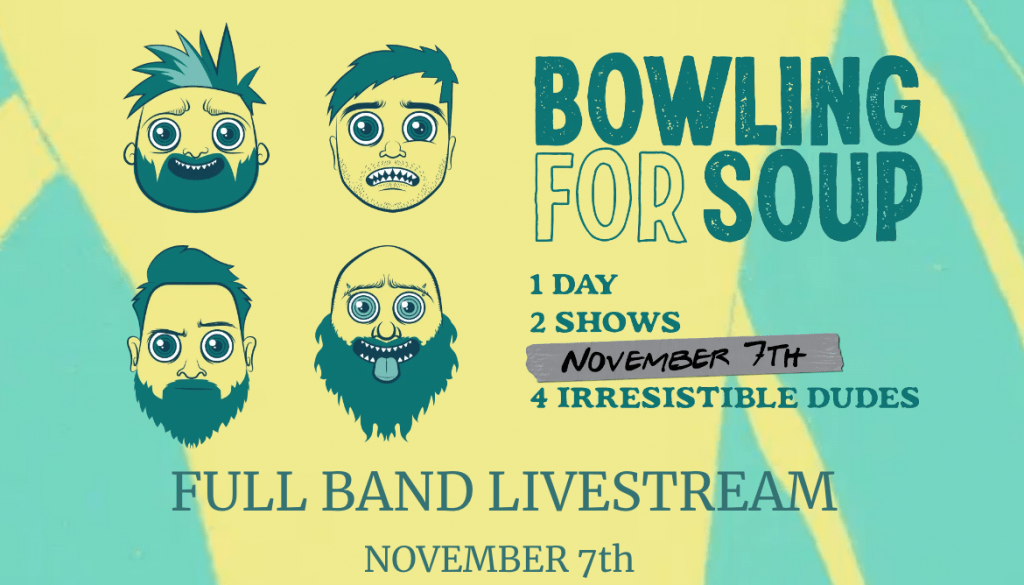 Tickets for the shows (individually and as a bundle) are available right now from Veeps (the streaming platform owned by none other than the Madden brothers of Good Charlotte fame). In addition to the full band streamed shows, tickets are also available for the soundcheck and an acoustic show with Jaret and bassist Rob Felicetti the night before, which takes place at 10pm UK on the 6th of November. Tickets for this are also available on Veeps.
Bowling For Soup recently announced plans to return to the UK on their first ever tour of some of the UK's coastal and seaside towns – the Surf The UK Tour, taking place in May 2021. Supporting BFS on this run will be US alt-rockers Lit, and Bowling For Soup's longtime friends and collaborators The Dollyrots.
The tour will begin in the very grand settings of the Empress Ballroom in Blackpool on the 1st of May and hit different points of the coast over the following week. This includes stops at some places Bowling For Soup have had great fun in on tours gone by such as Bexhill and Margate, as well as some new locations such as Scarborough.
The full list of shows is as follows:
Bowling For Soup Surf The UK – May 2021 Tour Dates
1st – Blackpool – Empress Ballroom
2nd – Grimsby – Grimsby Auditorium
3rd – Scarborough – Spa Grand Hall
4th – Bexhill – De La Warr Pavillion
5th – Margate – Winter Gardens
6th – Bournemouth – O2 Academy
7th – Swansea – Brangwyn Hall
8th – Torquay – Riviera International Centre
Tickets for the tour are on sale now and available from AEG – https://www.aegpresents.co.uk/events/detail/bowling-for-soup-3.
VIP tickets will be available for the tour, offering a selection of extra Bowling For Soup experiences and merch including:
– (1) ticket to the show
– An exclusive acoustic performance from Jaret and Rob
– A socially distant photo with the band
– An autographed poster
– Early entry into the venue
VIP tickets will be available from: http://www.bowlingforsoup.com
Bowling For Soup's main man Jaret Reddick is very much looking forward to seeing the UK part of the BFS Army once again:
"It's such a weird time. These dates will be 14 months since our last live shows. It is certainly hard to wrap my head around that. I absolutely can not wait to be on stage again, and in front of a UK audience, which everyone knows are the best fans on the planet! And holy crap…LIT! And our best buddies The Dollyrots. I can't think of a better way to kick back into gear! Rest assured, we will be compliant with any and all safety guidelines still in place during this tour! Let's DO THIS!"
Bowling For Soup are:
Jaret Reddick
Guitar and vocals
Chris Burney
Guitar
Rob Felicetti
Bass and backing vocals
Gary Wiseman
Drummer
Find Bowling For Soup online:
Website – http://www.bowlingforsoup.com
Twitter@BFSRocks
Facebook – https://www.facebook.com/bowlingforsoup
YouTube – https://www.youtube.com/user/bowlingforsouptv
Instagram – https://instagram.com/bfs_officialUK merch store – https://bowlingforsoup.probitymerch.com