NEW SINGLE A SHORTCUT (TO THE UNCONSCIOUS MIND)
When four young outsiders start a band, you can expect them to create a unique sound that doesn't conform to normal expectations. Octopus Montage excel with their pop-punk tracks, so of course, their latest track, A Shortcut (To An Unconscious Mind) proudly boasts a deathcore flavour!
The third track from the upcoming album 'How To Live And How To Lose', A Shortcut is arguably the heaviest track on the album. The track outlines the issues of living with a mental health issue, going in-depth on the experience of going through a dark patch for a prolonged period of time, with the use of extensive screaming, lack of clean vocals and multiple breakdowns, creating a picture of the difficulties some individuals face.
Written based on past experiences, vocalist Alex Jennings expresses the difficulty of enduring the issues 'so tell me how do I lie to make myself feel better on the inside'. Also expressing emotions such as guilt after coming out of an issue and having made loved ones lives extremely difficult due to the issues, 'Why don't you fucking hate me when all this pain has come from me', creating a 360° picture of issues that can sometimes be seen as two-dimensional.
A Shortcut (To An Unconscious Mind) is out now and available at all good outlets, check it out on Spotify, Apple Music and Amazon.
You can watch the video right now below:
While the music industry is in flux due to the current state of the world, Octopus Montage have taken the opportunity to be proactive and develop in the areas that are still available to bands today.
With the backdrop of a hugely successful track on Spotify, a cover of the Scooby Doo theme tune that was released in 2017 but saw a massive resurgence in late 2019 / early 2020, netting over 6.5 million streams and still climbing, the last single Grow Up rapidly reached 10k streams and is currently over 30k.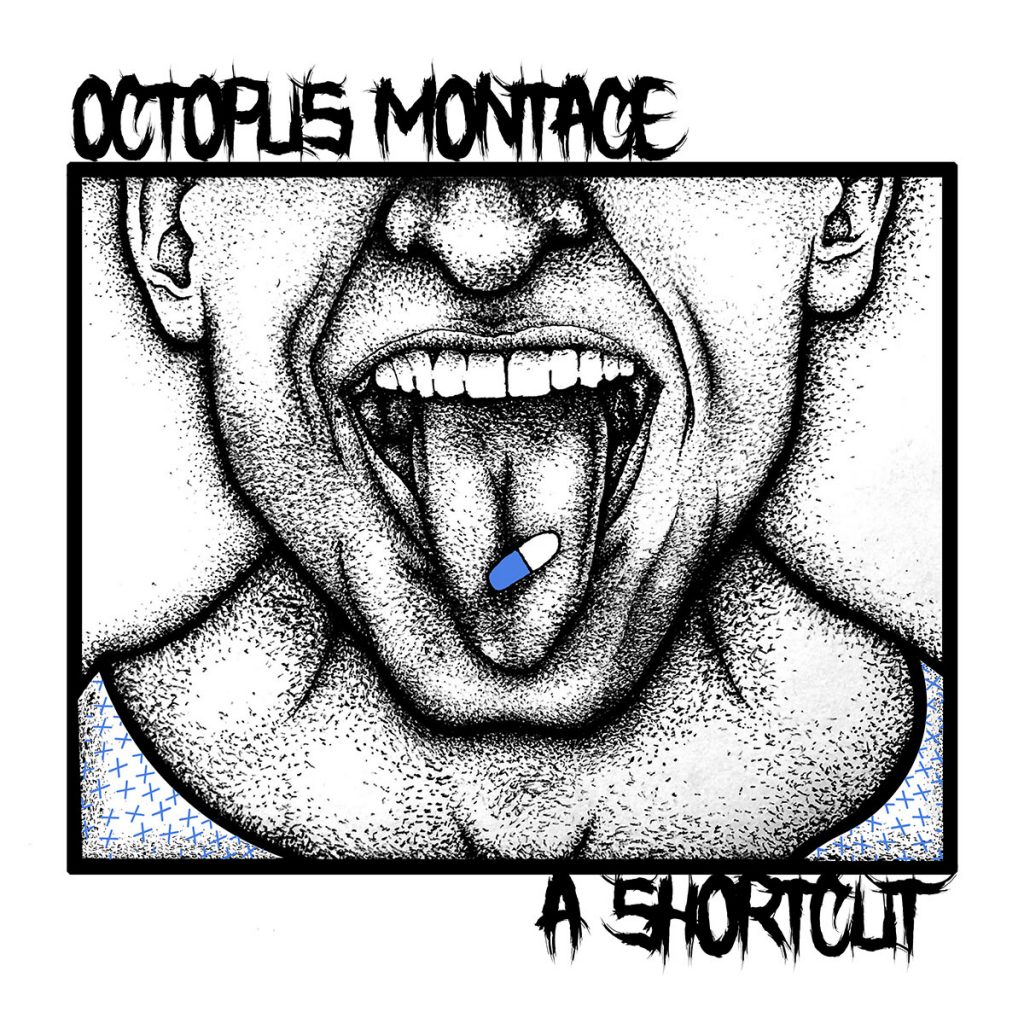 So, for this relatively young band eager to be out driving their bus around the country and playing live to real people, all is not lost. And their message to the music community is simple. Support your favourite bands, buy their music and merch, stream their music on your chosen platforms, it is only with your support that bands will still be around to come and entertain you on the other side!
Octopus Montage are:
Dec Naylor – Vocals/Guitar
Alex Jennings – Vocals/Guitar
Davina Naylor – Bass
Cain Dylan – Drums
Find them online