TICKETS ON SALE 10AM THURSDAY NOV 12
The Lovely Eggs have announced they will reschedule their UK February tour and have revealed a whole host of new dates for Summer 2021.
The announcement follows the success of their new album "I am Moron" which went straight to number one in the UK Independent Album Charts upon its release in April this year.
"The response to "I am Moron" blew us away and we couldn't wait to get on tour and play the songs live", said Holly from The Lovely Eggs. "But unfortunately we've not been able to do that this year and with so much uncertainty about the months ahead it seemed the best decision was to move all our live tour dates to Summer 2021. We really want a party with our Eggheads and feel that in current circumstances the summer will give us the best chance of doing that."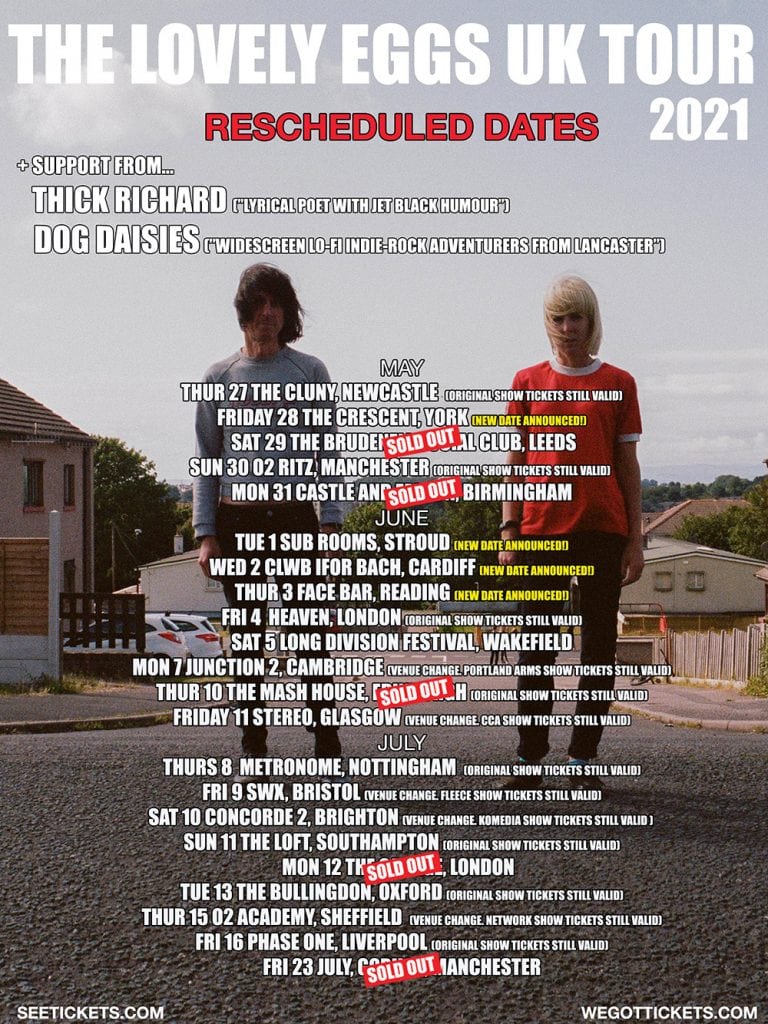 The 22 dates (including 4 newly announced cities) have seen many venues on the tour upgraded (after the original shows sold out with months to spare.) It includes the band's two biggest headline shows to date: the 1,500 capacity 02 Ritz in Manchester's Oxford Road and iconic 1,000 capacity Charing Cross club Heaven.
"We just can't wait to play live again," said David from the band. "We're really looking forward to playing all the new songs off I am Moron. This is a way of life for us."
Support will be provided by fellow Lancaster band Dog Daisies in Mayas well as Manchester poet Thick Richard. Poet and comedian Phill Jupitus will also join the bill at the 02 Ritz while in London support will come from poet and comedian Rob Auton.
In the meantime the band have set up an Lovely Eggs WhatsApp Lockdown group for their supporters to offer support and a friendly ear to anyone struggling during the current pandemic. "We've just got to try and get through this together" said Holly from The Lovely Eggs. "We set up one What'sApp Group and it was oversubscribed so we had to set up another! Our fans have always been there for us and it's important at this time that we are there for them."
'I AM MORON' UK TOUR DATES SUMMER 2020:
Tickets available HERE:
MAY 2021
Thur 27 The Cluny, NEWCASTLE (Original show tickets still valid)
Fri 28 The Crescent, YORK NEW DATE ADDED
Sat 29 The Brudenell Social Club, LEEDS *SOLD OUT*
Sun 30 02 Ritz, MANCHESTER (Original show tickets still valid)
Mon 31 The Castle and Falcon, BIRMINGHAM *SOLD OUT*
JUNE 2021:
Tue 1 Sub Rooms, STROUD NEW DATE ADDED
Weds 2 Club Ifor Bach, CARDIFF NEW DATE ADDED
Thur 3 Face Bar, READING NEW DATE ADDED
Fri 4, Heaven, LONDON (Original show tickets still valid)
Sat 5 Long Division Festival, WAKEFIELD
Mon 7 Junction 2, CAMBRIDGE (Venue upgrade. Original show tickets still valid)
Thur 10 Mash House, EDINBURGH *SOLD OUT*
Fri 11 Stereo, GLASGOW (Original show tickets still valid)
JULY 2021:
Thur 8 Metronome, NOTTINGHAM (Original show tickets still valid)
Fri 9 SWX, BRISTOL (Venue upgrade. Original show tickets still valid)
Sat 10 Concorde 2, BRIGHTON (Venue upgrade. Original show tickets still valid)
Sun 11 The Loft, SOUTHAMPTON (Original show tickets still valid)
Mon 12 The Garage, LONDON *SOLD OUT*
Tues 13 The Bullingdon, OXFORD (Original show tickets still valid)
Thur 15 02 Academy, SHEFFIELD (Venue upgrade. Original show tickets still valid)
Fri 16 Phase One, LIVERPOOL (Original show tickets still valid)
Fri 23 Gorilla, MANCHESTER *SOLD OUT*
Find The Lovely Eggs online at: