REEL BIG FISH have announced a run of UK live shows for November, which include shows in Bexhill, Northampton, Norwich and Margate.
Reel Big Fish was one of the legions of Southern California ska-punk bands to edge into the mainstream following the mid-'90s success of No Doubt and Sublime. The band was distinguished by their hyperkinetic stage shows, juvenile humor, ironic covers of new wave pop songs, and metallic shards of ska. The group cultivated an underground following that broke into the mainstream in summer 1997 when their single "Sell Out" became a modern rock radio and MTV favorite. Their appearance in the movie "Baseketball" as the halftime band also gained them more fans and helped the band's popularity to grow. Still fronted by original lead singer and songwriter Aaron Barrett, they continue releasing albums and touring relentlessly, playing more and more countries and bigger venues all over the world.
Reel Big Fish recorded its self-released debut album, "Everything Sucks", in 1995. "Everything Sucks" became a word-of-mouth underground hit in ska-punk and college circles, which gave the band enough leverage to sign with the indie label Mojo Records.
The label's president, Jay Rifkin, and former Oingo Boingo bassist John Avila co-produced "Turn the Radio Off", which marked Reel Big Fish's first album for Mojo. "Turn the Radio Off" was unleashed in August 1996, and over the next year, the group continually toured in support of the album's release, expanding their fan base all the while. In spring 1997, the single "Sell Out" began receiving heavy airplay from several influential modern rock stations in the U.S., which soon translated into MTV support for the song's quirky video. By summer, the song had become a moderate modern rock hit, and the album had charted in the Top 100.
In 1998 the song "Take on Me" from the "Baseketball" motion picture soundtrack was released as the promotional single for the movie and once again found the band in regular rotation on rock radio and MTV in the USA.
The Album "Why Do They Rock So Hard" followed a year later, once again enlisting Oingo Boingo Bassist John Avila as producer. The album was not as commercially successful but is still regarded by many fans as the bands finest work. The band filmed a music video for "the Set up (You Need This)", the only single released from this album.
The guys wound up on Jive Records in fall 2001 when their current label, Mojo, was bought by Jive's parent label, Zomba. Reel Big Fish's first release for Jive, a more rock-oriented record entitled "Cheer Up!", appeared in mid-2002. This album was very successful in Europe with the video for the single "Where Have You Been" receiving heavy airplay on many music video channels.
Later that same year, RBF did a song for a Rice Krispies called "Snap, Krackle, Pop-punk" which was used in 3 separate commercials. Also that year, they recorded a cover of Toots and the Maytals "Monkey Man" for the Nickelodeon movie "The Wild Thornberrys." The single for "Monkey Man" was also released in the UK and received heavy radio play as well as the music video being put on heavy rotation on Kerrang TV.
The band's next album, the cynical yet catchy "We're Not Happy 'Til You're Not Happy", was issued in April 2005. Touring continued for the rest of the year, and Reel Big Fish happily parted ways with Jive in January 2006, having wished to be dropped from the label since the "Cheer Up!" release.
In August 2006, the group self-released a double-disc live CD (along with an accompanying DVD) titled "Our Live Album Is Better Than Your Live Album".
Barrett said of this album: "We finally captured the energy, excitement, and humor of our live shows that we were previously unable to create in the recording studio environment. And it all sounds really good!"
The album was very popular with RBF fans and is sometimes referred to as "the Reel Big Fish Stand-up comedy album" because of all the silly stage banter.
The band returned with some new material in February 2007, splitting an EP "Duet All Night Long" with their friends in Zolof the Rock & Roll Destroyer. "Monkeys for Nothin' and the Chimps for Free" followed several months later, marking Reel Big Fish's first full-length studio release since leaving Jive's roster, and 2009′s "Fame, Fortune and Fornication" found the band covering songs by the likes of Poison, the Eagles, and Tom Petty.
In 2010, the band released "A Best of Us for the Rest of Us". It included a 22 song disc of re-recorded hits and classic fan favorites as well as a bonus disc of 14 Acoustic or "SKAcoustic" versions.
2012 brought their 7th studio album, "Candy Coated Fury" (Rock Ridge Music), an inspired and infectiously catchy return to the hyperkinetic ska and biting wit of the band's beloved early albums.
In 2014, RBF released their first Christmas Album, a six-song, digital-only album entitled "Happy Skalidays". The album included 4 classic Christmas songs and 2 RBF originals.
With the late-2018 release of the band's 8th studio LP, "Life Sucks…Let's Dance" (Rock Ridge Music) Reel Big Fish are finding themselves with a new focus and a renewed sense of purpose, as well as a– dare we say it– happier outlook on life.
Barrett says, "We started recording the album in January 2018 and really took our time with it. Our friend and engineer David Irish just finished building his new studio "Pot of Gold" in Orange, CA, and we loved how everything sounds there. There's just really good energy and good vibes there, plus there's a really adorable studio kitten named Iggy Fluff there, so we may have accidentally made a positive, happy record instead of a pissed off, hateful record, oops…well, there's a little pissed off-ness in there and some sarcastic, funny lyrics as usual! Also, I just got married so there might be a few sappy love songs on the album too! Yuck!"
He adds, "Recording the album with this line up was really fun, we all get along really well these days and everybody was excited to make a new record. Everybody had lots of great ideas and really got creative with everything and I really think it shows.
The new single "You Can't Have All of Me," is a danceable sing-along, catchy, hooky good old Reel Big Fish song. We didn't reinvent the wheel… We just painted more checkers on it!"
The long-running ska heroes, fresh off a summer-long stint on the final cross-country Vans Warped Tour, and appearances at Scallywag! Fest (with Bad Religion, Pennywise, Less Than Jake and The Interrupters) and Sammy Hagar's Hightide Beach Party, remain as popular as ever, as they continue to tour non-stop, playing over 250 shows a year to thousands of loyal fans all over the world, gaining more and more underground popularity as the Ska scene continues to flourish.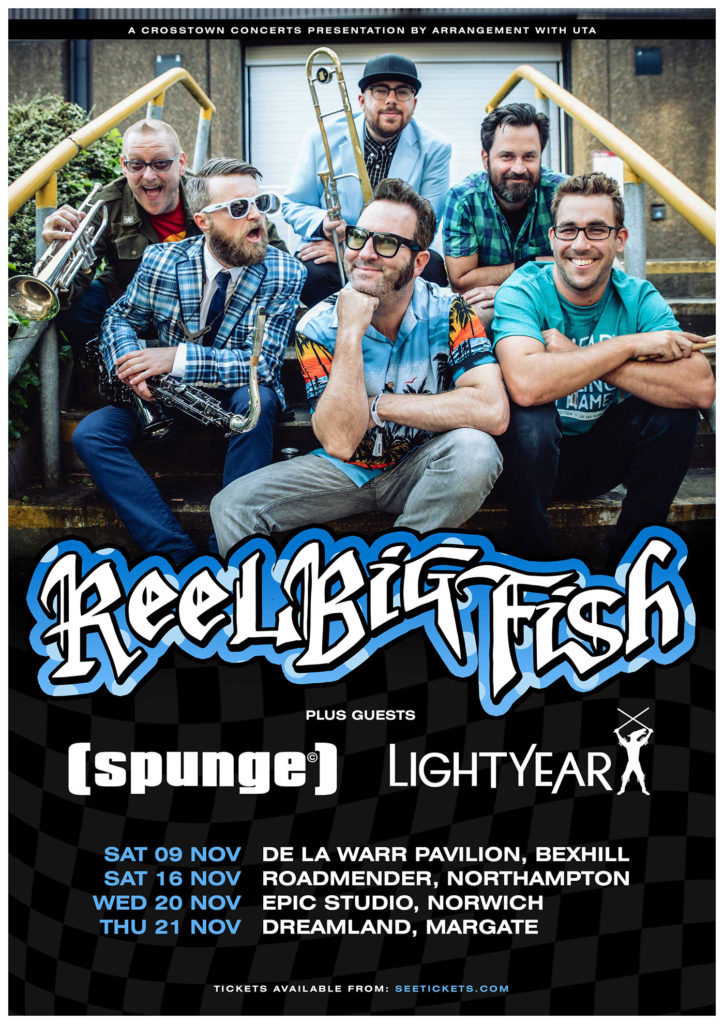 UK LIVE DATES
November
9th – De La Warr Pavilion, Bexhill
16th – Roadmender, Northampton
20th – Epic Studios, Norwich
21st – Dreamland, Margate