SLF ANNOUNCE UK/EIRE SUMMER 2019 TOUR
Stiff Little Fingers are pleased to announce additional UK/EIRE tour dates this summer.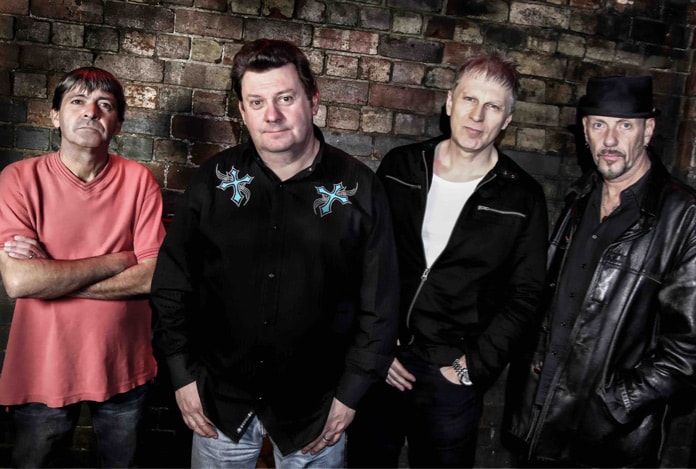 After the traditional and critically acclaimed run of UK dates in March, the band is back on the road in May and August to deliver their usual energetic and spellbinding performance to fans across the country. With a career spanning over more than 40th years, Stiff Little Fingers' live shows always become something special and a unique event that never disappoints.
2019 Celebrates 40 years of the band's iconic debut album 'Inflammable Material'.
Released on 2nd February 1979, the album features the legendary tracks 'Suspect Device' and 'Alternative Ulster'.
Stiff Little Fingers have been very incredibly active in recent years, playing some very prestigious live shows, including: two years of headline sold-out hometown performance in Belfast's Custom House Square; London's Hyde Park British Summer Time concert with Green Day; the 28th traditional St. Patrick's Day sold-out show at Glasgow iconic venue Barrowland.
In addition to the live performances, the past 5 years saw Stiff Little Fingers release two records: their 10th studio album "No Going Back" in 2014, which showcases a band at the height of their powers, still able to capture the heart of the listeners with relevant topics and honest sound, reaching #1 in the UK charts; and a live album "Best Served Loud – Live At The Barrowland" in 2017, which immortalizes Stiff Little Fingers' epic performance at their annual St. Patrick's Day show.
Formed in 1977 in Belfast Stiff Little Fingers were among some of the pioneers of punk rock. Joining ranks with the likes of The Clash, Sex Pistols, The Damned, Buzzcocks, and Undertones they brought in a new era of music and they still persevere in keeping that spirit alive 42 years on!
UK TOUR DATES
Fri 24th May- Bearded Theory Festival – Catton Hall, Derbyshire
Sat 25th May – Friar's at Waterside Theatre, Aylesbury
Sun 26th May – Plug, Sheffield
Tue 28th May – The Assembly, Leamington Spa
Fri 16th Aug – King George's Hall, Blackburn
Sat 17th Aug – Hardwick Live Festival – Hardwick Hall, Sedgefield, Co. Durham
Sun 18th Aug – Tivoli, Buckley
Tue 20th Aug – KK.'s Steel Mill, Wolverhampton
Wed 21st Aug – Guildhall, Gloucester
Fri 23rd Aug – Academy, Dublin
Sat 24th Aug – Putting The Fast In Belfast – Custom House Square, Belfast
Tickets available from all usual outlets.
www.slf.rocks / www.facebook.com/StiffLittleFingers / www.twitter.com/RigidDigits