"Bournemouth alt-rockers new music video takes aim at the UK Government and calls for inspiration in challenging times!"
"We'd like to thank Rishi Sunak for inspiring this tongue in cheek music video with his words of 'wisdom' a couple of months ago. We live in one of the most creative countries in the world, let us never forget that. The Beatles, Queen, Led Zeppelin, Pink Floyd, Elton John, David Bowie, Rolling Stones, and more… You name it. We enjoy their music thanks to our beautifully artistic British culture!" – Skinny Knowledge (January 2021)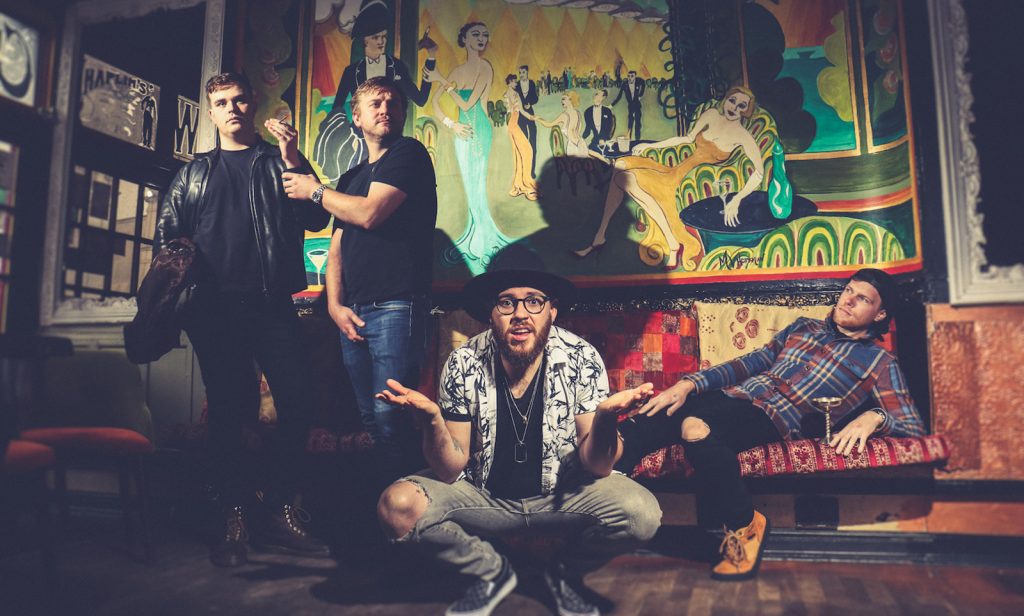 Skinny Knowledge's new single 'Keep Me Out Of It' is an ear-worm you'll be likely to be whistling to all day long. Simple, but punchy with a strong, motivational lyrical theme; it's encouraging people to push through the cracks in the world, and not let anything (or anyone) bring you down. Coupled with the new music video taking aim at the UK Government's "RETRAIN" campaign for the artist sector; within the fizz of 'Keep Me Out Of It' resides a potent call to action.
"Lyrically, the message is pretty simple and we've conveyed this in the new music video", explains Andy L Smooth (vocals/guitar). "Don't put up with other people's hang ups! Don't let it affect you, because life is WAY too short to be miserable. If something or someone is making your life a misery, find a way to lose that toxicity. Take this past year for example: we have so much more to worry about than petty, playground 'he said this, she said that' nonsense. Whenever I feel I'm being drawn away from a positive place, I have a favourite quote from Ricky Gervais which always resonates with me, and sums up 'Keep Me Out Of It' perfectly: "life is a lot easier to deal with if you can laugh at it", concludes Smooth.
Out this March, Skinny Knowledge's debut album 'Don't Turn Out The Lights' is pure blood rock n' roll tinged with punk influences. However, peel back the layers and what you'll find at the centre is a big middle finger to a society that makes people feel like it's not okay to not be okay. A society that creates a tormenting image of false pretence that kicks us when we're down, rather than helping us back up. In a world full of tainted phone screens and technology, the songs presented on 'Don't Turn Out The Lights' believe there's a place inside of all of us that's searching for some form of realism. This is honest rock n' roll in every essence. Thundering drums, roaring guitars, and a voice with something to say.'Don't Turn Out The Lights' is released 5th March 2021.
Pre-order it here: https://skinnyknowledge.co.uk/product/dont-turn-out-the-lights-cd-pre-order/
ALBUM TRACKLIST :
1. Don't Turn Out The Lights
2. Imagination
3. Alive
4. King Of Nothing
5. Keep Me Out Of It
6. Not Coming Down
7. Getaway
8. Sayonara
9. Wheel Of Love
10. This Time
11. Make A Change
12. Take The Blame
13. Heavy Metal Interlude
14. Stand Alone
SKINNY KNOWLEDGE IS:
Andy L Smooth – Vocals/Guitar
Benjamin Parker – Guitar
Fenge Davies – Bass Guitar
Charlie Kenny – Drums
CONNECT WITH SKINNY KNOWLEDGE: