NEW ALBUM COMING 2021 PRODUCED BY MUSIC LEGEND YOUTH
"An aural evocation and appreciation of all that is nocturnal and exciting." Louder Than War
Following their eponymously named debut album in 2019, art punks The Imbeciles return today with a new self-released six-track EP titled 'Dissolution Sessions', that features a new band line up – and a different sound. "We've slimmed down from a meandering, vegan, six-member prog rock combo, to a tight-knit, guitar-led, steak-eating 5-piece," says lead Imbecile, Butch Dante. "The guitar sound is fuzzy punk beast-master AF, and we like it."
The band had originally gone into the studio earlier this year to record a radio session for BBC R6. That ended up being cancelled because of the pandemic crisis. "We were there anyway so we started riffing on some new songs and everything came together real fast," says Butch.
You can order the 'Dissolution Sessions' EP HERE
This month The Imbeciles played a special gig in Brooklyn, New York in frontman Butch Dante's garage – the perfect setting for their raw, primal sound.
"It was mad," exclaims Butch. "We had to keep it on the DL because the fuzz would have shut it down otherwise but we still had 30 people and a bunch of other locals turned up and peered through the gate. People liked it! And I got to wear my spacesuit! Yay!"
Check out the live video for their recent single 'Yes I Am' from the show here
In early 2021 the band are set to begin recording a new album with hugely respected producer and Killing Joke founder, Youth.
"Having Youth involved as producer and co-writer is the most dope thing that has ever happened to the band," says lead singer and bass player Kip Larson. "Everyone is in a super positive, hyper creative place right now and we can't wait to see what we come up with."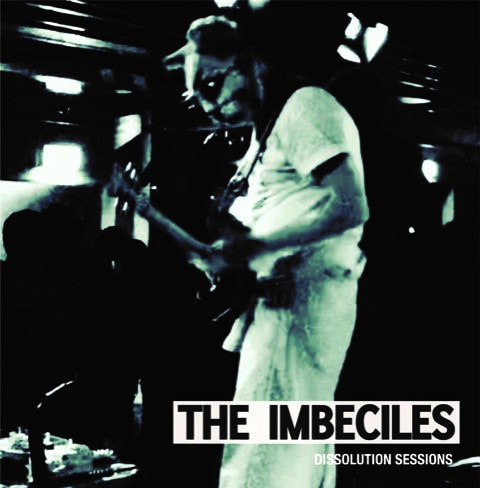 The Imbeciles are:
Butch Dante (guitar and vocals)
Stan Mosely (guitar and vocals)
Kip Larson (bass and vocals)
Josh Lattanzi (guitar and vocals)
Charlie Conkers (drums)
'Dissolution Sessions' Track Listing:
Yes I Am
Sunday Leaguer
Medicine
Decider
Sad Case
One Man Band
Find The Imbeciles online at: