THUMPER catapult into 2020 unleashing a brand new lively single, 'Ad Nauseam', streaming from Fri 21st Feb. 2019 saw them release three singles "(You're Bringing Me) Down", "In My Room" and "AFL", all of which received extensive UK radio support from Steve Lamacq, Huw Stephens, Daniel P. Carter, Kerrang! Radio & Radio X, as well as several Spotify playlists including New Music Friday, The Rock List and even a feature on E4's Made in Chelsea.
'Ad Nauseam is a cautionary tale about repetition and vanity. The echo chamber of ego, a never ending horror show for an audience of one. The song deals with an interaction that has the protagonist narrowly escape being eaten alive by a starving internet date.' – Lead vocals & guitar Oisin Furlong
This lively single offers a blistering 218 seconds of trashing lead vocals that wrestle with raw, roaring ego as this raucous anthem thunders from fractious chorus to pared back periods of brutal honesty. Throbbing bass lines haunt Ad Nauseam, hardly pausing for a breath, before being backed up by fresh, punchy, guitar.
Last summer THUMPER released their debut EP "Out of Body Auto-Message" (produced by Daniel Fox of Girl Band) to a sold out show in Dublin's Lost Lane, before embarking on a 3 month festival tour which included key slots at Primavera (Barcelona), Knockanstockan, Body&Soul, Electric Picnic and many more.
The latter half of 2019 saw the band complete their first headline tour of the UK, inc sold-out shows in London and Bristol, before finally return to Dublin for their second homecoming sell-out of the year in The Grand Social.
This year anticipates rampant success for Dublin's noise-pop sextet, from performing at The Netherlands infamous Eurosonic festival, alongside a headline UK tour, topped off with performances across Belgium, Germany and France.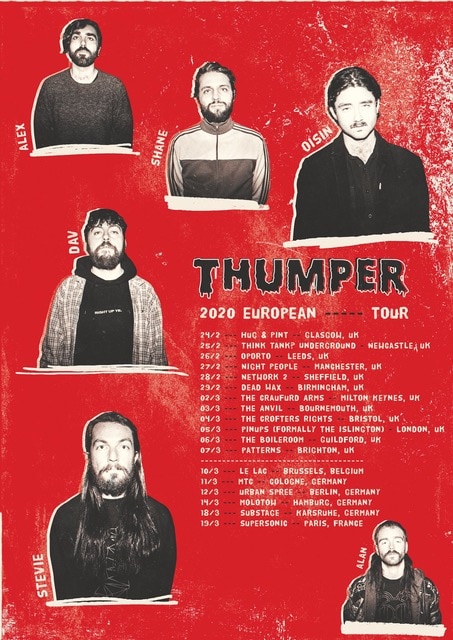 Tour Dates
24/02/20 – The Hug & Pint – Glasgow
25/02/20 – Oporto, Leeds
27/02/20 – Night People, Manchester
28/02/20 – Network 2, Sheffield
29/02/20 – Dead Wax, Birmingham
02/03/20 – The Crauford Arms, Milton Keynes
03/03/20 – The Anvil, Bournemouth
04/03/20 – The Crofters Rights, Bristol
05/03/20 – The Islington, London
06/03/20 – The Boileroom, Guildford
07/03/20 – Patterns, Brighton
"A sonic thrust impossible to ignore"– Tony Clayton Lea, The Irish Times
"In Dublin, it's been thrilling to witness The Murder Capital, Fontaines DC, and THUMPER to see who can be the most viscerally thrilling both on stage and on vinyl" – Hot Press Magazine
"Bubblegum pop hooks and ragged guitar noises collide on THUMPER's bratty, frenetic punk rock." – Q Magazine
"The group have been conjuring a storm with a roaring indie rock sound that's sharp, punchy and damn right epic" – Tap The Feed, Bristol, UK