Debut album 'Uppers' out 5th February 2021 via Sub Pop Records
Sub Pop has signed TV Priest following four powerful singles, and will now release their debut album 'Uppers' on 5th February 2021.
In celebration of this news, they've shared the album's lead single 'Decoration', with theatrical video directed by Joe Wheatley, which was premiered on The FADER.
On 'Decoration', The FADER says "Gnarly British post-punk band TV Priest blow a breeze through life's trinkets and accoutrements on "Decoration," the beating heart of their forthcoming Sub Pop debut Uppers."
TV Priest's politically urgent, mechanical, subtly humorous (and self-deprecating) post-punk was hard for Sub Pop to ignore, especially following standalone singles 'House of York' and 'Runner Up', as well as 'Uppers' early tracks 'This Island' and 'Slideshow'.
On 'Decoration', TV Priest's Charlie Drinkwater said:
"We often think of it as a 'walking down the road' song, like you're strolling along a street and lots of little vignettes of life are coming your way. The absurd in the mundane feels apt too. Once again this sense of a kind of late capitalism, Ayn Rand style 'personal progression' being an utter myth. It's all just Decoration! Probably a favourite from the record."
'Uppers' is now available to preorder from Sub Pop.
Released 5th February 2021
('Uppers was originally set to be released through UK label Hand in Hive next month, but will now be available worldwide in February through Sub Pop)
Catch TV Priest live at the following dates next year:
20th April – Bristol – Rough Trade
21st April – Southampton – Heartbreakers
22nd April – London – The Shacklewell Arms
23rd April – Brighton – Prince Albert
29th April – Cardiff – Clwb Ifor Bach
30th April – Yes (Basement) – Manchester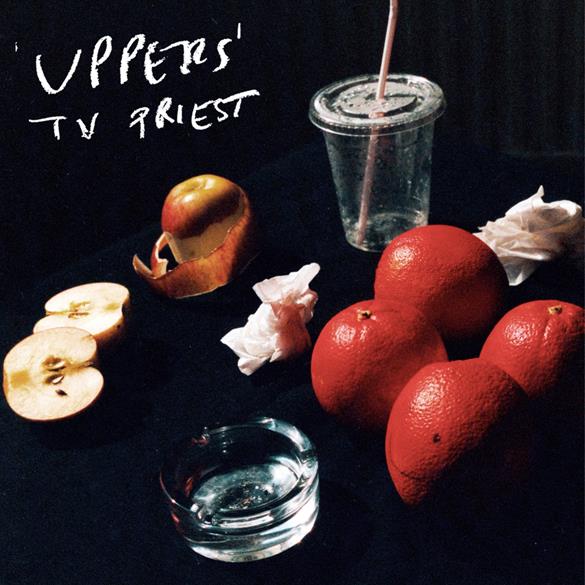 TV Priest – Uppers
Out 5th February 2021 via Sub Pop Records
Tracklisting:
1. The Big Curve
2. Press Gang
3. Leg Room
4. Journal of a Plague Year
5. History Week
6. Decoration
7. Slideshow
8. Fathers and Sons
9. the ref
10. Powers of Ten
11. This Island
12. Saintless
TV Priest are:
Charlie Drinkwater – vocals
Alex Sprogis – guitars
Nic Bueth – bass, keys
Ed Kelland – drums
TV Priest online: