WAYNE HUSSEY is pleased to announce his 'Salad Daze Tour 2019'.
Perhaps best known as the frontman of totemic goth rock outfit The Mission, Wayne will be embarking on an extensive UK tour in support of his autobiography: 'Salad Daze', released earlier this year.
The 16 date run will see Wayne spinning yarns of a legendary life in rock'n'roll, plus performing many of the unforgettable tunes that have soundtracked his illustrious career in music. Kicking-off at the Queens Hall in Nuneaton on 26th August and winding up at the Komedia in Bath on 6th November, the full list of dates and details are included below. Born in Bristol and raised as a Mormon, Wayne had his epiphany as a young boy watching Marc Bolan and T. Rex on Top Of The Pops. Seeing his destiny in a blinding flash of glitter, mascara and dark curls, he decided he was going to be a rock star too. Later, leaving Bristol to move to Liverpool – home of his beloved Liverpool Football Club and birthplace his favourite band, The Beatles – it wasn't long before Wayne surrendered to excess and debauchery as he gained international recognition and notoriety as lead singer and principal songwriter in The Mission, after previously being guitarist with The Sisters Of Mercy, Dead Or Alive, and a member of Pauline Murray's Invisible Girls.
The Salad Daze Tour will see Wayne opening up about his childhood up to his life in The Mission and everything in between. Explaining why 2019 was finally the time to tell his story, Wayne says: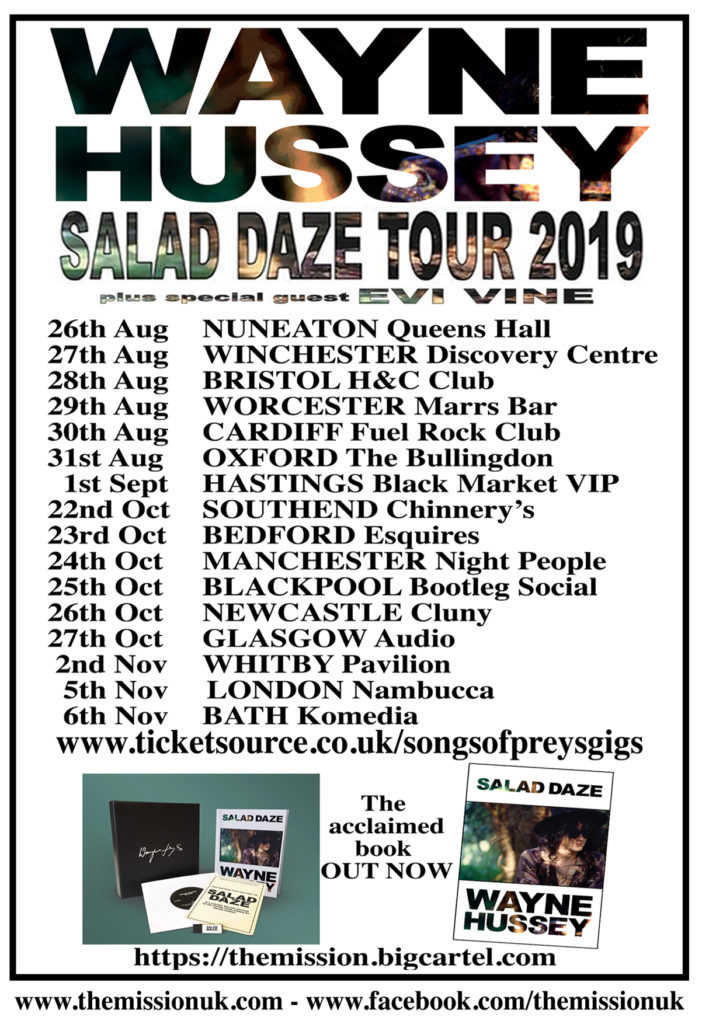 "I'd recorded seven albums in eight years, and by the time we'd finished the last Mission album in 2016, I felt creatively exhausted and needed to do something else for a while. I'd been approached about writing an autobiography but always felt I'd rather make music than write a book. With my 60th birthday fast approaching it just felt like the right time to sit down and recall my life. It's a strange thing, writing about yourself. There's a certain conceit involved, that your life warrants recording and might be of interest to someone else, and it took me a while to come to terms with that premise. But once I did I thoroughly enjoyed the process."
WAYNE HUSSEY – SALAD DAZE TOUR
August
26th – Queens Hall, Nuneaton
27th – Discovery Centre, Winchester
28th – H&C Club, Bristol
29th – Marrs Bar, Worcester
30th – Fuel Rock Club, Cardiff
31st – The Bullingdon, Oxford
September
1st – Black Market VIP, Hastings
October
22nd – Chinnery's, Southend
23rd – Esquires, Bedford
24th – Night People, Manchester
25th – Bootleg Social, Blackpool
26th – Cluny, Newcastle
27th – Audio, Glasgow
November
2nd – Pavilion, Whitby
5th – Nambucca, London
6th- Komedia, BathSupport at all shows comes from special guest: EVI VINE.