SELF-TITLED DEBUT ALBUM SET FOR RELEASE NOVEMBER 20TH VIA KILLING MOON RECORDS
PRE-ORDER AND MERCH BUNDLES HERE
Bad Nerves? I'm usually pretty calm and grounded myself, at least until the adrenaline kicks in. I haven't come across this East London indie-punk five-piece before, but they seem to have made a pretty big splash launching their eponymous debut album. DJ Gary Crowley described them as a "200 miles-an-hour Supergrass", which sounds right up my street.
Opener 'Can't Be Mine' takes off at a ferocious lick, setting out a stall for the band's pop sensibilities within seconds. My immediate impression is that it sounds like The Dickies covering T-Rex. For a recording produced in the digital age, it's also managing to sonically emulate the cheap record player of my 1970s teenage bedroom. I feel right at home already.
Within the first 30 seconds, we arrive at a colossal chorus hook. This is route one power pop, straight to the point, no messing. A twin guitar assault chimes away at either extreme of the stereo image, while a picked bass with a tone like a classic Rickenbacker is driven hard down the middle. The machine gun snare fills are worthy of the golden age of punk: taut of skin, loose of wrist, and breathtakingly fast. Frontman Bobby's voice is strong and powerful enough to hold the soaring choruses and is processed into a curiously trebly signature sound, almost as though it had been speeded up a bit. It sits well within the retro, slightly distorted, vibe of the overall mix. Before you know it, a second verse adorned with falsetto vocals and juddering guitar stabs has thundered past. A quick breakdown and bridge and one final run through that killer chorus hook, and we're out of there, clocking just over two minutes of garage punk pop perfection.
There's no time to dwell on that though, as it's straight on with the next song. 'Mad Mind' is driven along by powerful rhythm guitar with lots of chord changes, which reminds me of the Buzzcocks. That association is cemented by the addition of harmony vocals, again heavily processed. "All this time makes you old", quips the lyric, sagely, and the number is brought to an eminently satisfying conclusion before two further minutes have elapsed.
Every track sounds like a single, and quite a few of them have been. 'Baby Drummer' is absolutely sublime, a paean to the glory of guitar-based music, longing for its return to prominence. With hooks everywhere, it's catchier than a whole roll of velcro. 'Palace' goes all-in at maximum velocity, with pre-choruses, stops, pinball bumper stabs, and layered harmony builds. It's like every classic pop song you've ever heard, boiled down to a dense elixir, then squirted back at you out of a 'super soaker' water pistol. "We're the goners, the lovers, the lost kids never grown up. Oh, what a life!"
The steadier paced 'Radio Punk' is again driven by an insistent rhythm guitar, building inexorably towards yet another massive hook. "You never play the punk I like," bemoans the lyric of a song that seems tailor-made to be playlisted. Then we're back to full tilt for 'Bored Of Babies', with some astonishingly fast and tight fills rattling round the toms. The relentless urgency of the rhythm guitar contrasts nicely with languid wails of lead, which somehow grab a few bars of song to sustain and decay through before the arrival of another magnificent vocal refrain.
'Electric 88' maintains the momentum with a glorious chiming twin-guitar figure that puts me in mind of The Undertones. The lyrical theme of "Bad electrics on my 88 car" (we've all been there) evokes a poignant awareness of the transience of all things, like rock'n'roll Romantic poetry: "You grow tired of growing old." The high velocity 'Wasted Days' is a song that's been around for a while, but seems to chime with the current moment: "I've given up this time, we've got better days to go."
Somehow the band find another gear to move up for the recent single 'New Shapes', which hurtles along with crunching rhythm guitar, soaring lead, deft drum fills and some rather sweet triplet octaves on the bass. It sounds like the whole band is really going for it. My only slight reservation is the helium effect on the vocals, which could do with backing off a notch, but there's not much else wrong with this flashing glimpse of pop perfection.
The mesmerically repetitious 'Last Beat' is a thing of beauty, with some delicious chord changes underpinning an insistent, foot-tapping rhythm. It's hard to pick a favourite on an album where every track is a winner, but for me, this is two minutes of bliss.
'Terminal Boy' is a high-speed romance almost worthy of the pen of the late Pete Shelley, and played with the intensity of The Ramones. "I met this girl, she had dreams like my own!" Yet another slice of classic indie garage pop-punk.
'Dreaming' concludes the album, bursting straight into the most outrageously catchy chorus hook: "As I lie in my bed, dreaming forever. Dead, but my love outlive me. I'm a line in your head, living like a wave…" They'd obviously like their music to live on beyond them, as sound and as memory. With songwriting this honed and compact, delivered with such energy and intensity, it might just happen.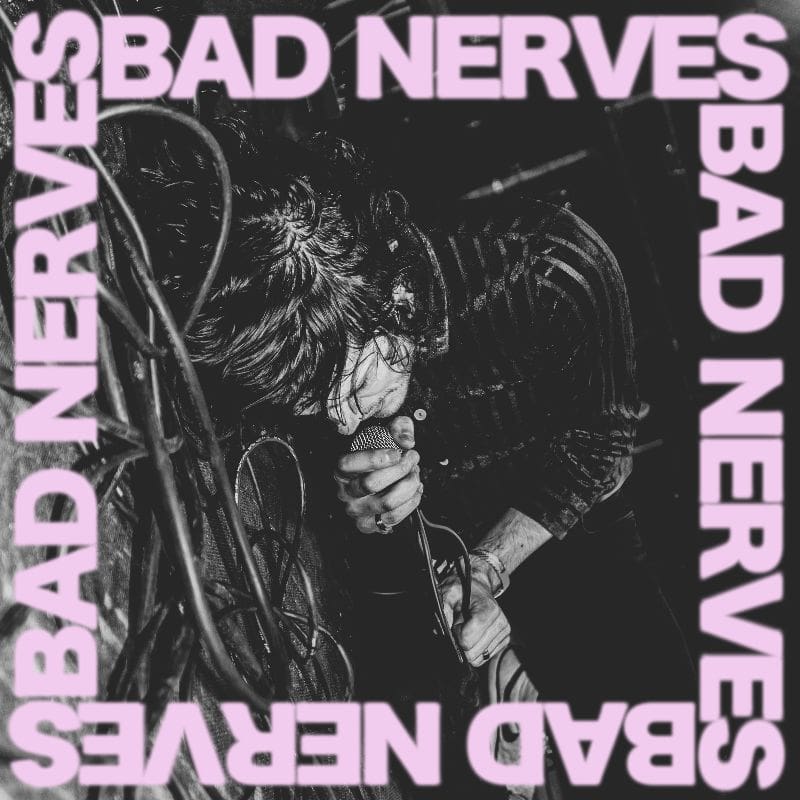 'Bad Nerves' is released on Killing Moon Records on 20th November 2020.
Bad Nerves are:
Bobby Nerves – Vocals
William Phillipson – Guitar
George Berry – Guitar
Jonathan Poulton – Bass
Samuel Thompson – Drums
Track listing:
2. MAD MIND
3. BABY DRUMMER
4. PALACE
5. RADIO PUNK
6. BORED OF BABIES
7. ELECTRIC 88
8. WASTED DAYS
9. NEW SHAPES
10. LAST BEAT
11. TERMINAL BOY
12. DREAMING
Facebook: https://www.facebook.com/badnerves/
Instagram: http://www.instagram.com/badbadnerves/
Twitter: https://twitter.com/badbadnerves