SELF-TITLED DEBUT ALBUM SET FOR RELEASE NOVEMBER 20TH VIA KILLING MOON RECORDS
BAD NERVES have dropped their psychedelic roller coaster of a new video 'NEW SHAPES'(directed and produced by the band's very own Bobby Nerves) taken from their highly anticipated self-titled debut album, set for release NOVEMBER 20TH via Killing Moon Records. With a healthy dose of PMA combined with an infectious, feral, punk rock energy, BAD NERVES set out to promote unity, tolerance and equality with their latest single. Blasting off the starting line with unrelenting fuzzed-out guitars and undeniable vocal hooks soundtracked at the pace of a bullet train, 'NEW SHAPES' is the perfect injection of positivity that we all need.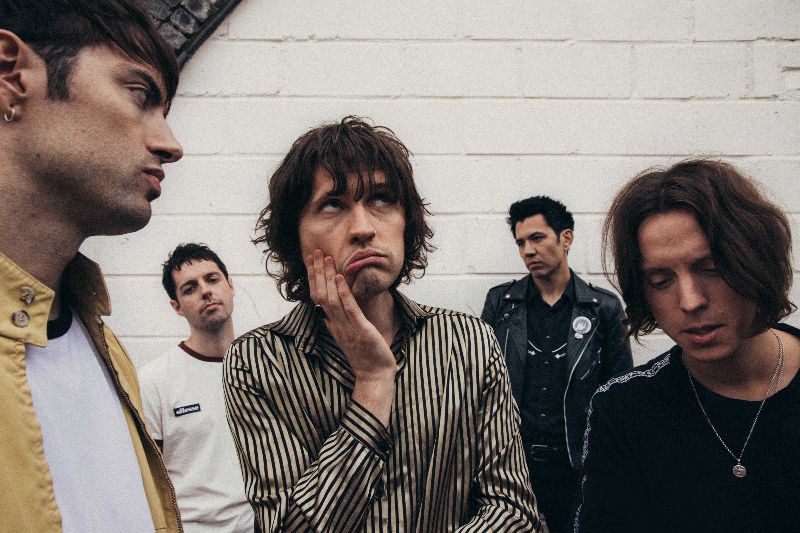 "New Shapes is about accepting people for who they are and celebrating our differences. I cannot understand why anybody would discriminate against another human being because they're not the same. Be it race, gender, sexuality, or struggling with mental illness… It's baffling how concerned people are with these things when none of it matters in the slightest. Be kind, be considerate, be open to new and different ideas, and listen to Bad Nerves"- Bobby Nerves
PRE-ORDER THE ALBUM HERE
This hi-octane debut exploresfamiliar human experiences filtered through a nihilistic lens, touching upon the anxieties of lost youth, in the never-ending pursuit of self-improvement and the justification of existence. All of these matters are perpetuated by the backdrop of futile modern distractions and disheartening comparisons drawn through the illusions of social media.
Bad Nerves are a 5-piece Powerpop-RocknRoll band from East London. The bastard child of a Ramones/Strokes a one-night stand that play ferociously fast distorted pop songs, packed with earworm hooks and melodies.
The band drew acclaim with their previous releases 'Dreaming', 'Radio Punk', & 'Can't Be Mine' (released through UK label National Anthem), catching the attention of a host of BBC Radio 1 DJs including Dan P Carter, Clara Amfo, Huw Stephens, Phil Taggart and Annie Mac – who made 'Can't Be Mine' one of her coveted 'New Names' picks.
Dubbed the '200 miles-an-hour Supergrass' by Gary Crowley at BBC Radio London, Bad Nerves are looking to set a new standard for adrenaline-fuelled pop-rock music. Wrapping up the end of 2019 with some notable performances at Reading, Leeds and Lowlands festivals. Bad Nerves are set to make their mark with this stunning debut.
BAD NERVES
Bobby Nerves – Vox / William Phillipson – Guitar / George Berry – Guitar / Jonathan Poulton – Bass / Samuel Thompson – Drums

'BAD NERVES' TRACKLISTING

1. CAN'T BE MINE
2. MAD MIND
3. BABY DRUMMER
4. PALACE
5. RADIO PUNK
6. BORED OF BABIES
7. ELECTRIC 88
8. WASTED DAYS
9. NEW SHAPES
10. LAST BEAT
11. TERMINAL BOY
FOLLOW BAD NERVES