With the world in lockdown, like everyone else, Aerial Salad are stuck at home. Right now, they should be touring across the UK in support of their recently released, and very much acclaimed, new album 'Dirt Mall'. But they're not. They're biding their time, waiting, hoping, that they can fire up their engines again soon and get back to doing what they love and what we love them to do.
Although they clearly want to get back to action, like anyone, Aerial Salad can also be idle. Their new single is called 'Lazy' and although it was written and recorded way before Covid-19 came into our lives, and the video was recorded shortly before, it perfectly sums up where we are right now. Stuck indoors. Lazy.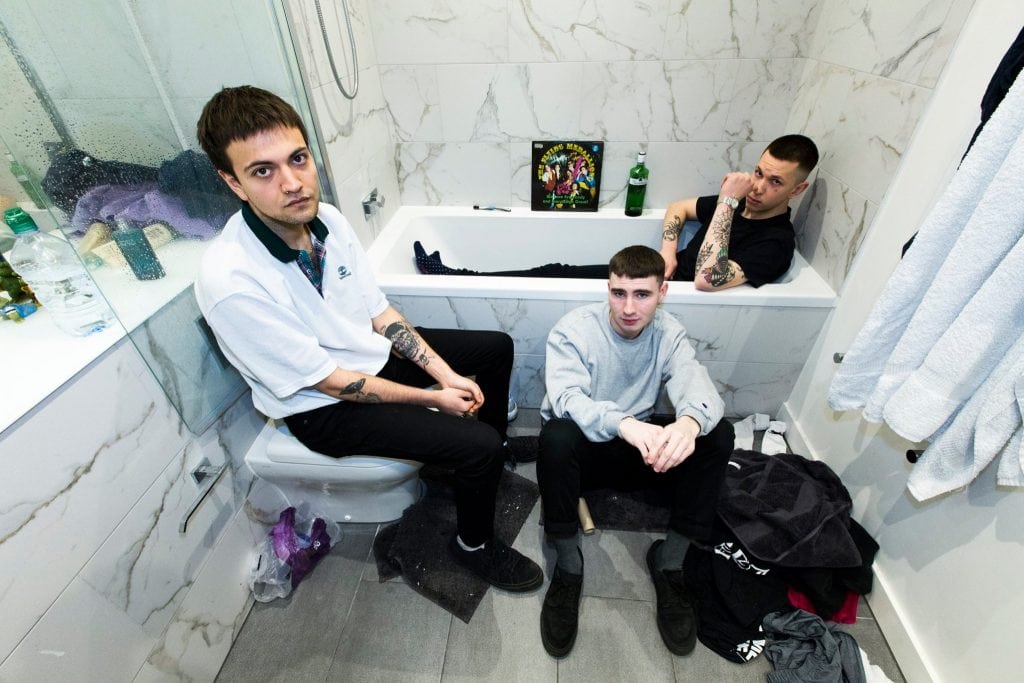 "'Lazy' is a song that came written out of thin air," explains guitarist and singer Jamie Munro. "I'd taken an edible and after it had settled I picked up my guitar after listening to the Seahorses 'Love Is The Law', and wrote that whole song in five minutes, it's about the fucking joy of having a Saturday in with no plans, sometimes you can't be arsed with 'the sesh' and you just wanna stay at home and embrace your inner lazy, in these times of quarantine that's every day now.
"The video is simply me and Mike (Wimbleton, bass) and our mate Vez doing what we normally do when we have a Lazy day together."
Warning: The video contains male nudity and recreational drug use. And why the fuck not.
'Dirt Mall' was created with UK recording legend Paul Tipler ("because he'd recorded 'Mush' by Leatherface, which we love,"), and Aerial Salad have delivered nine songs of anthemic, driving punk rock, the sound of the once rag-tag teenagers finding their sound, feet and minds, frustrated by day jobs and the world swirling around them.
"It captures everything I've seen working as a temp in offices and generally being in my twenties trying to work myself and the world out. With some pop songs thrown in for fun," admits Jamie, and it is all of that and more. Bristling with energy and passion, each and every song means something. From the charging title track ("people should not have to try and survive life,"), the bass and drum groove and explosive chorus of 'Such A Pity' ("about being young and a fucking arsehole,"), the cathartic strut of 'Stressed' ("the Tories are basically trying to kill us, that's the cut and dry,") and first single 'Romance?' ("a song about wanting romance with someone who is otherwise romantically engaged,"), 'Dirt Mall' is an album by three best mates, experiencing this life together, and taking it on.
What happens next?
'Dirt Mall' track-listing:
1 Virtue
2 Romance?
3 Fever Dream
4 Temp
5 Such a Pity
6 State O'Yer
7 Dirt Mall
8 Lazy
9 Stressed
Order 'Dirt Mall' here: https://aerialsalad.co.uk/
Aerial Salad are:
Jamie Munro – guitar/vocals
Mike Wimbleton – bass/vocals
Matty Mills – drums
Find Aerial Salad online at: