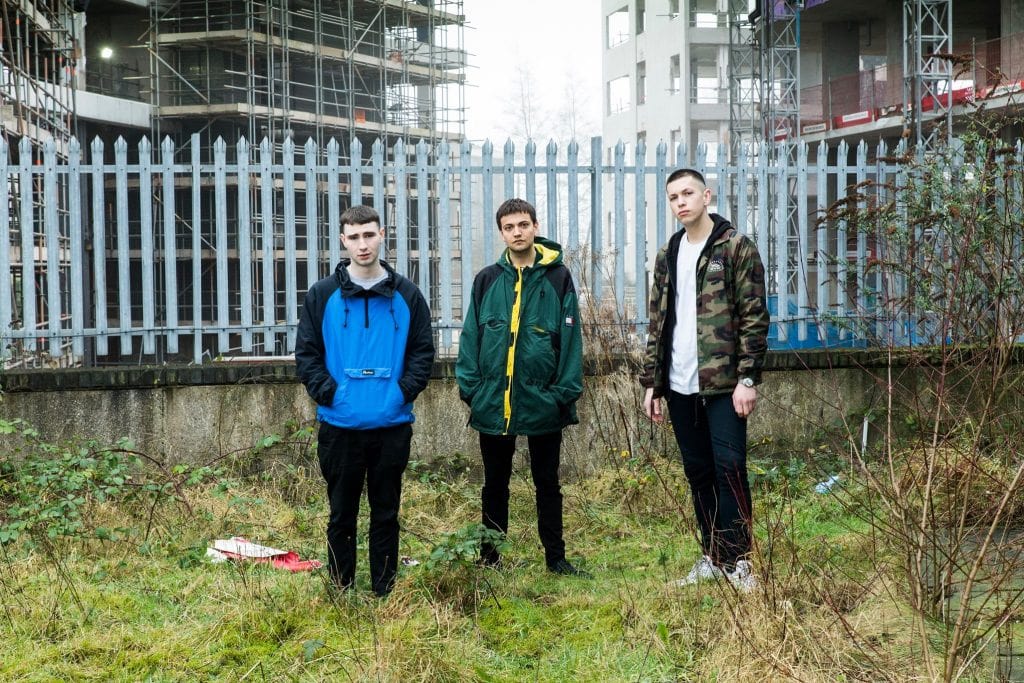 Raising their voices from lockdown, fast-rising Manchester punk-trio Aerial Salad return with 'Stressed', the third single to be taken from their new album 'Dirt Mall', released as the world clamped down earlier this year via Roach Industries/Plasterer Records.
'Stressed' is a scream of frustration at the daily grind of working life: "I would walk past the location we filmed 'Stressed' every day for two years on my way to work," explains guitarist and vocalist Jamie Munro. "I always knew I wanted to film the 'Stressed' video there because it's an old office block. 'Stressed' is a song about my descent into madness while working in an office for a blue chip company; the song's not a glorification of weed, more just me pointing out how sad it is that that's the only respite that can be conjured for a lot of people in their early 20s working shit jobs just to pay rent. Shout out to Tommy from Bruise Control, Lauren from LAD$ Zine (go check that out) and Keiron from Don Blake for their extra work and Mark Richards for filming."
"I'm glad we managed to film on location," continues Jamie. "It was boarded up, so we recorded in early February and high winds knocked down the gate to the location so really the universe clearly needed to see this video and so do you!"
Watch the video for 'Stressed' HERE:
'Dirt Mall' was created with UK recording legend Paul Tipler ("because he'd recorded 'Mush' by Leatherface, which we love,"), and features nine songs of anthemic, driving punk rock, the sound of the once rag-tag teenagers finding their sound, feet and minds.
The band will also be releasing the original demo version of the album's opening track 'Virtue', which will be available May22nd.
You can be sure that Aerial Salad will be playing live the very second it is possible.
'Dirt Mall' track-listing:
1 Virtue
2 Romance?
3 Fever Dream
4 Temp
5 Such a Pity
6 State O'Yer
7 Dirt Mall
8 Lazy
9 Stressed
Order 'Dirt Mall' here: https://aerialsalad.co.uk/
Aerial Salad are:
Jamie Munro – guitar/vocals
Mike Wimbleton – bass/vocals
Matty Mills – drums
Find Aerial Salad online at: