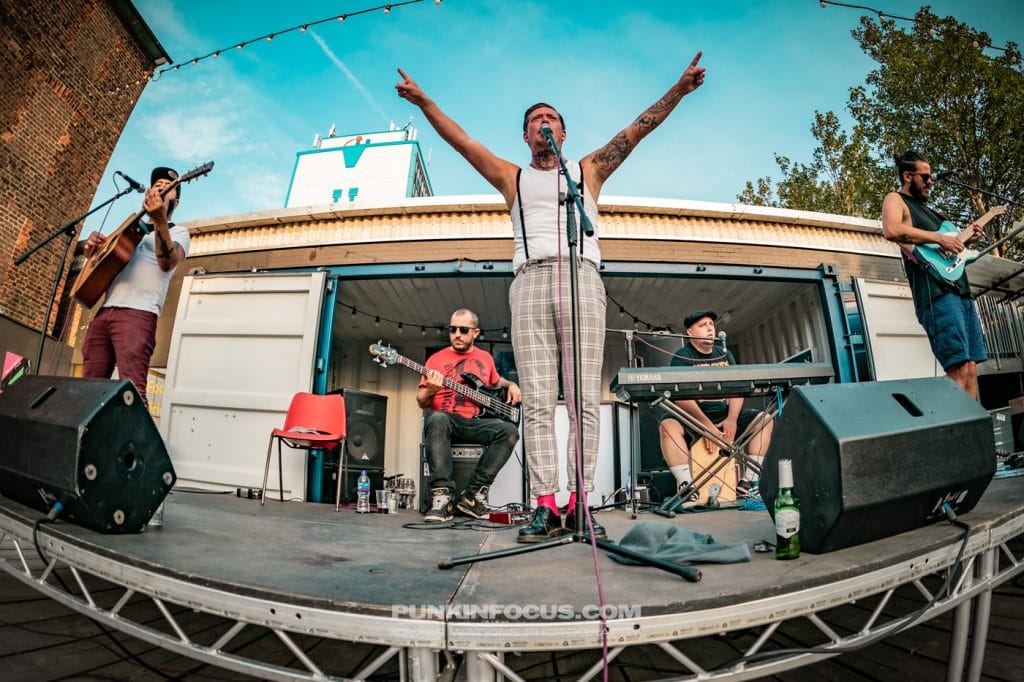 RISKEE AND THE RIDICULE + DOG ROTTEN @ COACHWORKS, ASHFORD 9TH AUGUST 2020
This evening is the first chance most of this crowd here get to witness a live show since before lockdown started back in March. Up to now the only outlet for bands and punters alike has been live streams via one of the socials. But tonight all that changes, a proper bonafide live show, albeit a socially distanced affair. So many questions, so many fears. How will Riskee pull this off tonight, Surely, a punk band in the current climate in front of a crowd so used to kicking off in a moshpit will only lead to chaos?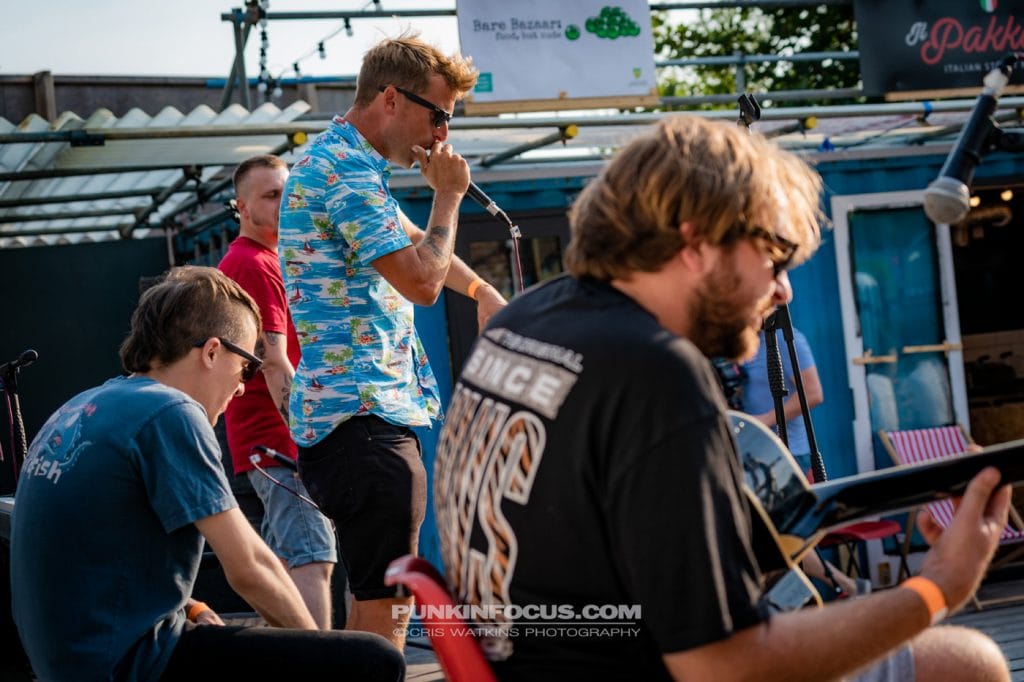 The Coachworks here in Ashford has made the safety of the crowd and band number one. We are seated in groups of six in well-spaced tables throughout the large outdoor space. There's 'Track and Trace' set up at the bar, sanitising stations a-plenty and a large 4-metre or so area between the stage and the first row. There are also strict rules on dancing, loud sing-a-longs, moshing and shouting which are pretty much the standard for a riskee show.
Dog Rotten
With the sun still burning high in the Kent sky, Bexley rap punks Dog Rotten kick off the proceedings with an all-acoustic set, mostly lifted from their first full-length release 'Working Class Circus.'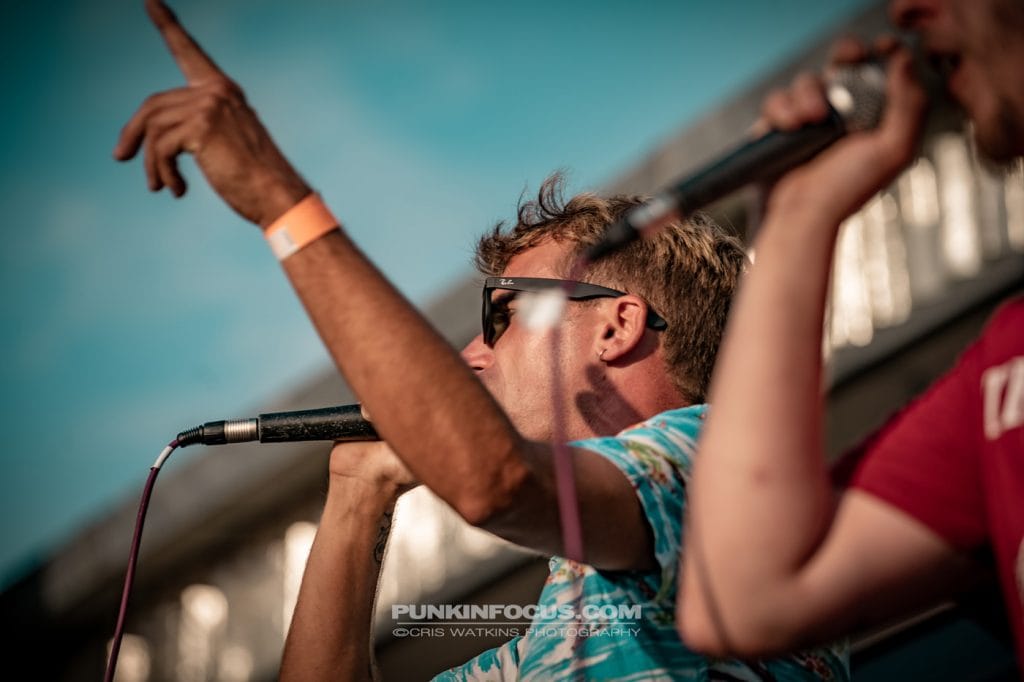 Down to a four-piece tonight, consisting of Jordan Day and Calum Day (Vocals), Matt Head (Guitar) and Matt Parris (Cajón). They do an excellent job of translating these tracks to the acoustic format.
Opener 'Spread Your Love', the would-be shout-along, 'Get Drunk', 'Dog Rotten' and title track 'Working Class Circus' are all solid offerings, but the highlight for me was closing track 'Warface', even in this bastardised acoustic state it still shines. In more 'normal' times Dog Rotten would have had this crowd thrashing down the front of the stage with them, but this evening the most they can offer in support is waving arms, claps and cheers.
I've seen more than enough tonight to warrant catching these guys again, hopefully with a full electric set when the time finally arrives.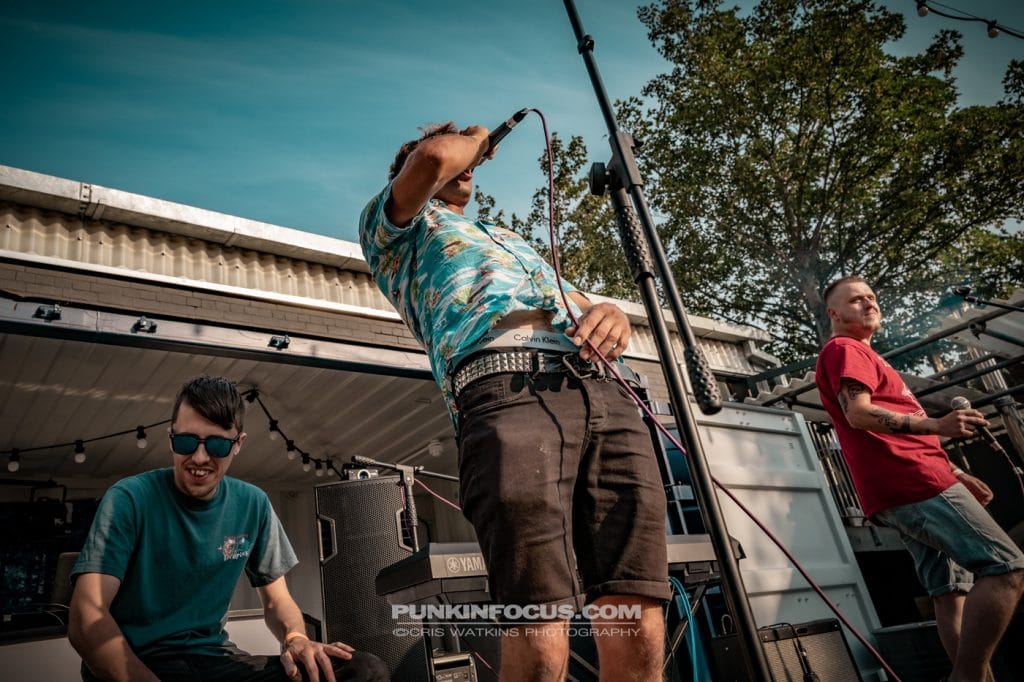 You can check out Dog Rotten on Bandcamp here.
Dog Rotten setlist:
Spread Your Love
Get Drunk
Working Class Circus
Attica
Stating the Obvious
Dog Rotten
Monster
Warface
Riskee and the Ridicule
After a short break to check out the bar and food stands it's time for hometown boys, Riskee and the Ridicule to take the stage. It's a slight change to the usual band setup, with Jimbo Aglony (Acoustic guitar), Matt Verrell (Cajón and keyboards) but for the rest of the band, it's business as usual. Scott Picking (vocals), Joe Crump (bass) and Jordan Mann (Electric guitar).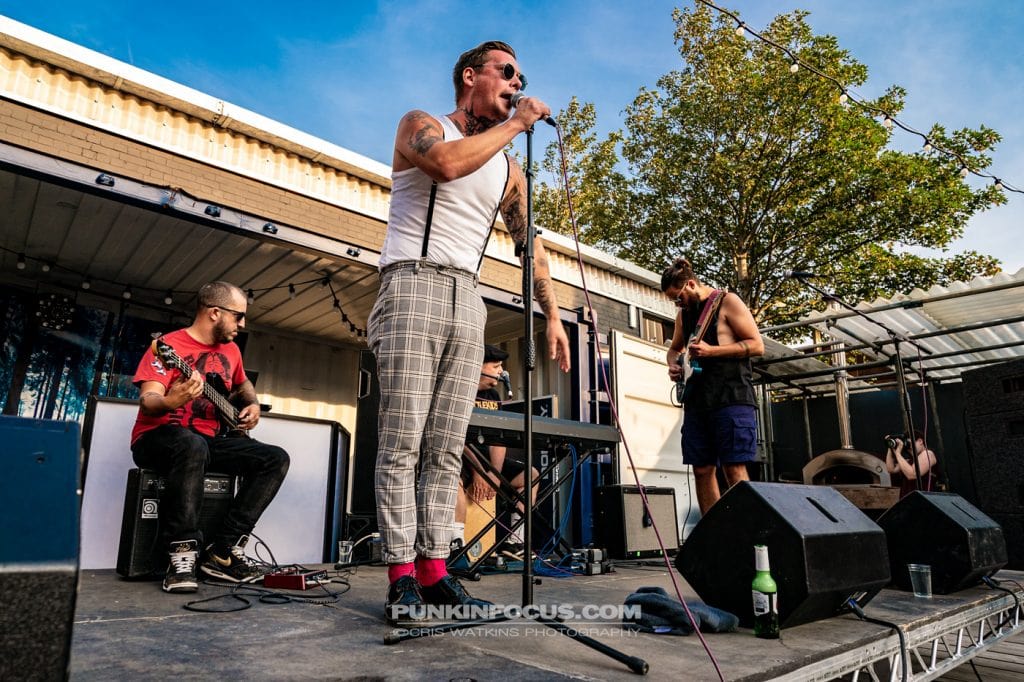 During lockdown the band have kept themselves pretty busy, releasing two new singles. The first, the belting Brexit thumping, 'Blue Jacket' kicks off the set. The semi-acoustic sound doesn't dampen down the power of the message one bit, and as the set progresses, I notice the absence of the drums and second electric guitar less and less. No matter what the odds, Riskee and the Ridicule manage to deliver a set that's not only impressive and heartfelt but pretty damn exciting too. Who'd have thought 'Body Bag' would work in this situation, but it does, it's hard and still slab heavy as f**k, Aglony's guttural vocals just sealing the deal. Looking around, you can see the sheer enjoyment on so many faces, oh how long we've waited for this.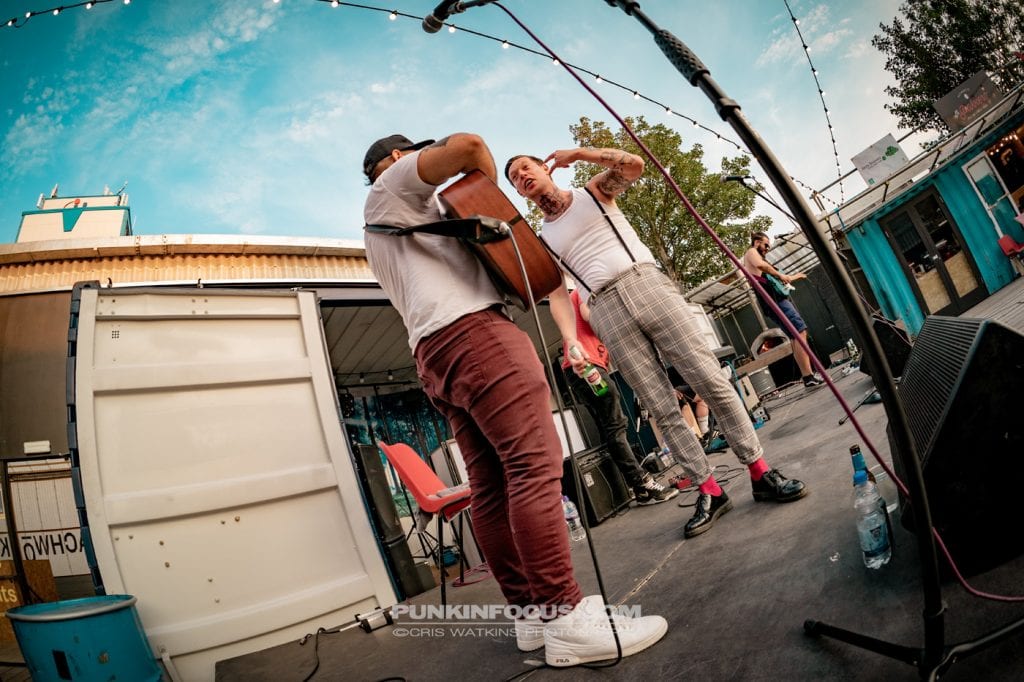 Apart from the rare outbreak of dancing from a few people, that's quickly put a stop to by the Coachworks staff, the crowd stick to the rules, but one thing that's hard to stop at a Riskee show is a sing-a-long, the songs are just so damn infectious. This is most evident to me during 'Pool Water', 'Molotov Cocktails' and 'Our Time'.
Others that get a run-through tonight are a mighty 'Kaboom', the bleak and beautiful 'In The Dark We Dwell' and latest single, their reworking of the classic Lana Del Rey number 'Young and Beautiful' (check out their video here) and it's also the perfect set closer.
They return for a single song encore, and it's quite literally a 'Banger'!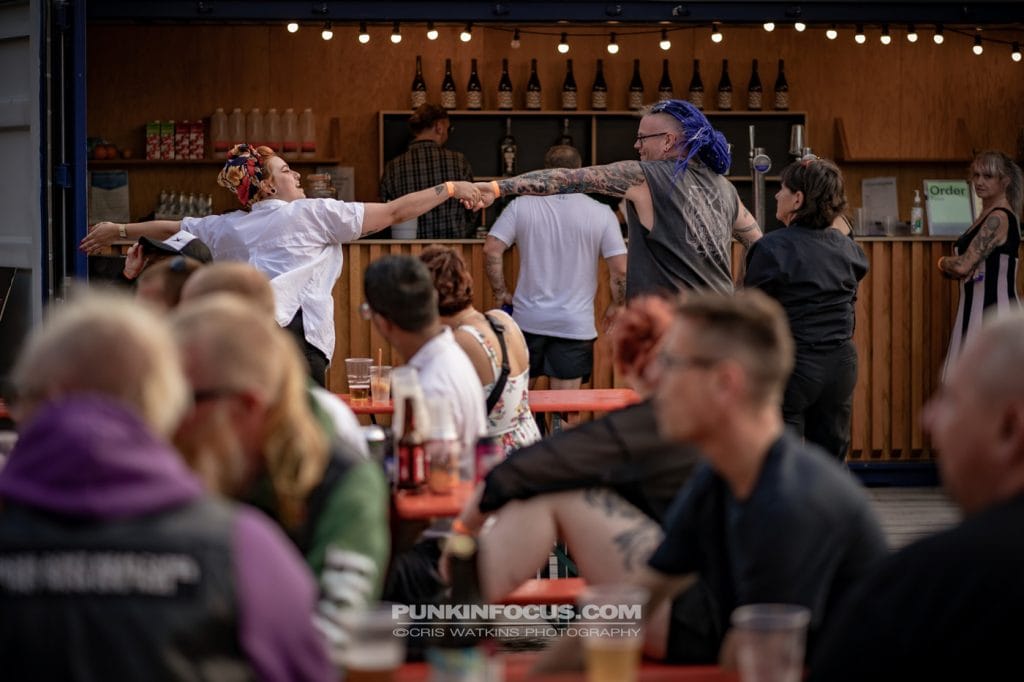 I've seen Riskee and the Ridicule a number of times over the last few years, and I've never seen them give less than 100% and tonight restrictions or not they deliver yet again. They have a loyal and solid following, and I can only see this growing and growing. Riskee are truly the crack cocaine of grime punk!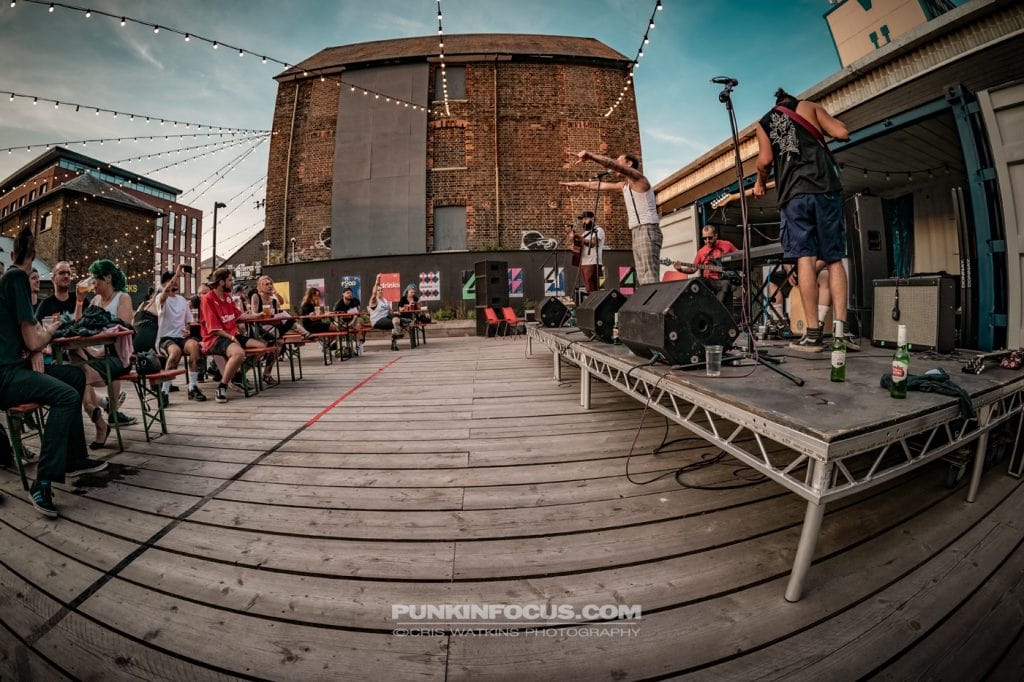 Riskee have held up their promise of an eagerly awaited end of lockdown show. It may not be what we all had hoped for, but between themselves and Coachworks they have set the benchmark for socially distant punk shows. For the foreseeable future, this looks the only way for any shows to go ahead and if that's the case it just shows with a little hard work and a lot of love we can again enjoy a truly live punk rock show!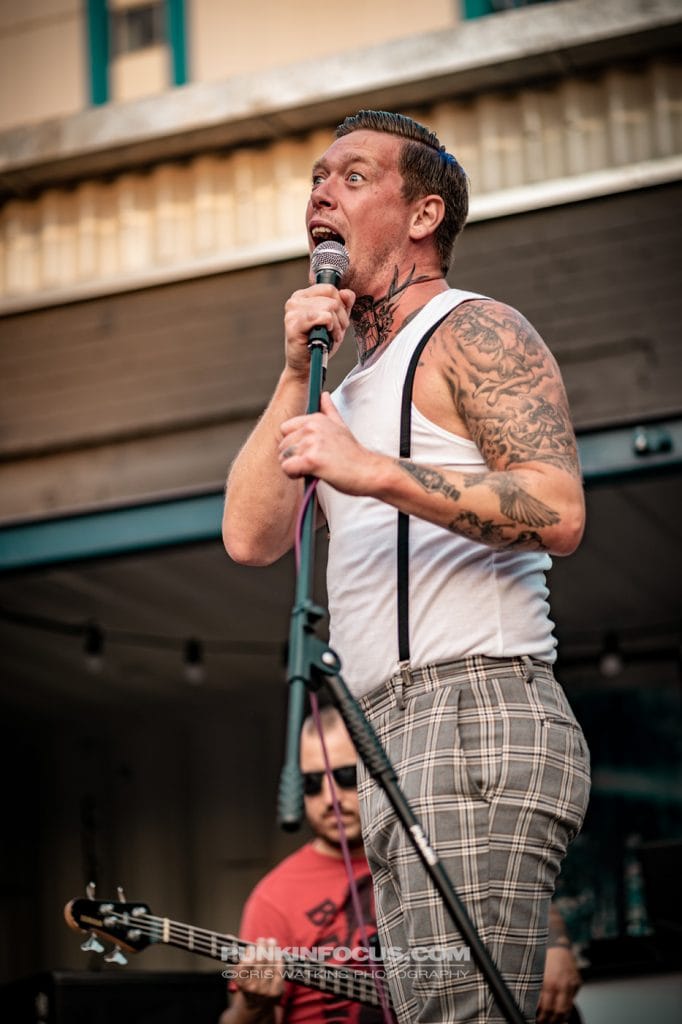 You can check out Riskee and the Ridicule on Bandcamp here.
Riskee and the Ridicule setlist:
Blue Jacket
Play the Game Again
Our Time
Pool Water
Left My Soul
Roots
In the Dark We Dwell
Body Bag
Running on air
Grotesque
Jack of all trades
Kaboom
Molotov Cocktails
Young and beautiful
Banger
You can find Riskee online here
facebook.com/RiskeeandtheRidicule/