Main Stage Headliners Opeth And Cult Of Luna Are Joined By The Likes Of Amenra, Oathbreaker, The Locust, Rolo Tomassi, Caspian, Mono, Jaga Jazzist, Svalbard, Tesseract And Many More
One of the worlds best and most loved underground music festivals ARCTANGENT has this week unveiled almost its entire 2021 band line ups for the event that will take place next year between August the 18th and 21st.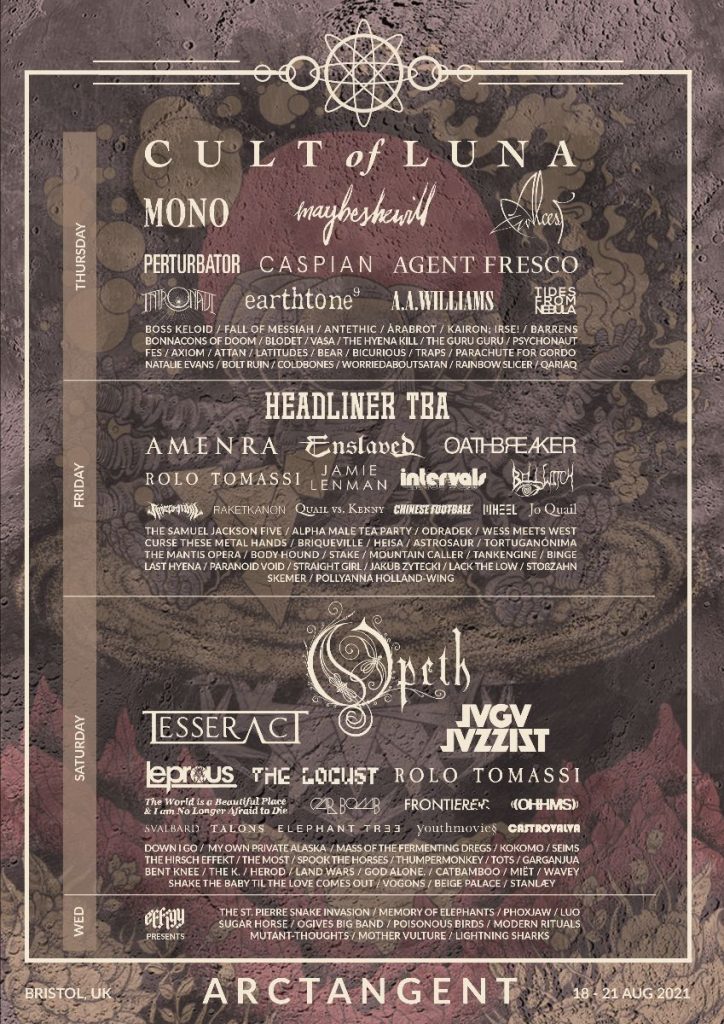 Teaming up with the likes of Audiotree, Kerrang, Riot Act Podcast and Louder (Metal Hammer/Prog Magazine) to announce the bands over the last 4 days, the main stage headliners Opeth and Cult Of Luna (with one final main stage headliner still to be announced) were joined by an array of the finest heavy, out there, interesting, intricate, genius, epic and downright incredible bands currently making music.
Amongst the bands playing include British prog heroes Tesseract, a reformed Maybeshewill, a much anticipated return form the wonderful Oathbreaker, a double full album slot from Rolo Tomassi (who will be playing both 'Grievances' and 'Time Will Die And Love Will Bury It' in full over two sets), ANOTHER hugely awaited return but this time from US noise kings The Locust and so so so much more.
Festival booker James Scarlett also spoke to the 101 Part Time Jobs podcast about both ARCTANGENT and his other festival, 2000trees, AND went on an Instagram Live chat with Blake Norris from Audiotree (US) to talk all things noisy and brilliant.
From James Scarlett – "I'm so stoked on the line up at ATG. It's a mix of some of my favourite live bands, from the legends in Opeth and Jaga Jazzist to the brain melting insanity of returning heroes The Locust to some of the best underground heavy bands on the planet as well as Amenra, Rolo Tomassi and Jamie Lenman plus the return of the mighty Oathbreaker for what is likely to be their only show of 2021. Excited isn't the word! To say the least, 2020 has obviously been a bit of a nightmare for everyone so we really wanted to bring some joy and some guitars to people's lives. I'm so proud of the line up we've put together and can't wait to see everyone at Fernhill farm in August 2021. See you all then!"
ALL currently announced acts for ARCTANGENT 2021 are:
Opeth / Cult of Luna / TesseracT / Jaga Jazzist / MONO / Maybeshewill / Alcest / Amenra / Oathbreaker / Rolo Tomassi / Leprous / The Locust / Perturbator / Caspian / Agent Fresco / Jamie Lenman / Enslaved / Intervals / Bell Witch / Rivers of Nihil / The World Is A Beautiful Place & I Am No Longer Afraid To Die / Intronaut / Earthtone9 / A.A.Williams / Tides From Nebula / Raketkanon / Quail vs Kenny / Chinese Football / Wheel / Car Bomb / Frontierer / OHHMS / Svalbard / Talons / Elephant Tree / Youthmovies / Jo Quail / The Samuel Jackson Five / Alpha Male Tea Party / Curse These Metal Hands / Castrovalva / Down I Go / Mass of the Fermenting Dregs / My Own Private Alaska / Boss Keloid / Fall of Messiah / Antethic / Arabrot / Kairon; IRSE! / The St. Pierre Snake Invasion / Memory of Elephants / Phoxjaw / Luo / Bonnacons of Doom / Barrens / Blodet / VASA / The Hyena Kill / The Guru Guru / Psychonaut / FES / Axiom / Attan / Latitudes / Bear / Bicurious / Traps / Parachute For Gordo / Natalie Evans / Bolt Ruin / Coldbones / worriedaboutsatan / Rainbow Slicer / Qariaq / Wess Meets West / Odradek / BRIQUEVILLE / Heisa / Astrosaur / tortuganónima / The Mantis Opera / Body Hound / Stake / Mountain Caller / TANKENGINE / Binge / Last Hyena / Paranoid Void / Straight Girl / Jakub Zytecki / Lack The Low / Stoßzahn / Skemer / Pollyanna Holland-Wing / Kokomo / SEIMS / The Most / The Hirsch Effekt / Spook The Horses / TOTS / Thumpermonkey / Garganjua / Bent Knee / The K. / Herod / Land Wars / God Alone. / Sugar Horse / Ogives Big Band / Poisonous Birds / Modern Rituals / Mutant-Thoughts / Mother Vulture / Lightning Sharks / MIËT / Shake the Baby Til the Love Comes Out / Catbamboo / Wavey / Vogons / Beige Palace
Tickets for ArcTanGent Festival 2020 are on sale now from – HERE
LOCATION
ArcTanGent is hosted on Fernhill Farm, Compton Martin. Check the map link for entry HERE. Only a short journey from Bristol city centre, Bristol Temple Meads Station and Bristol Airport. The entrance to the festival is on the B3134.
GLAMPING INFORMATION
GENERAL INFORMATION
To celebrate the return of ARCTANGENT FESTIVAL and our awesome 2021 line up, we've brought back Super Early Bird tickets for one week only. Get them now at 20% OFF, Zero Booking fees & full refunds if you change your mind.
The award winning ArcTanGent is the world's ultimate green fields music festival delivers line-ups you won't find anywhere else on Earth. ArcTanGent has built a reputation for itself as THE emerging UK rock festival, both putting on exclusive performances from exceptional, worldwide artists and supporting new, exciting talent. ArcTanGent is a fully independent festival that grows organically year on year
Previous acts include recent headliners Messhugah, Coheed and Cambria and Battles, as well as the likes of Shellac, Converge, Glassjaw, Explosions In The Sky, Russian Circles, Nordic Giants, American Football, The Dillinger Escape Plan, Godspeed You! Black Emperor, Carpenter Brut, Deafheaven, La Dispute, And So I Watch You From Afar, Animals As Leaders, Cult of Luna, Deerhoof, This Will Destroy You, 65daysofstatic, Zeal & Ardour, Daughters, Pigs7, TTNG, Brutus, Fuck Buttons, Jamie Lenman, Black Peaks, Car Bomb, Rolo Tomassi, Arcane Roots, Employed To Serve, TTNG and many more.