A DELUXE RE-ISSUE OF THEIR FIRST TWO ALBUMS IN ONE VINYL SET, WITH NEW ARTWORK BY JAMIE LENMAN
OUT 11 DECEMBER 2020, VIA XTRA MILE RECORDINGS PRE-ORDER HERE
This Winter, REUBEN are teaming-up with Xtra Mile Recordings to present: 'Racecar Is Very Fast'.
A deluxe double-vinyl package, the release will reissue their first two albums together as one set for the first time; with exclusive new artwork designed by Jamie Lenman.
Given their break by Xtra Mile Recordings all those years ago, in 2020, Reuben are returning to where it all began. In collaboration with the label, on 11 December 2020, the band will release: 'Racecar Is Very Fast'; a deluxe double gatefold vinyl package that will celebrate its constituent albums, 'Racecar Is Racecar Backwards' and 'Very Fast Very Dangerous', as one.
Bursting onto the scene in 2004 with 'Racecar is Racecar Backwards', the trio of Jamie Lenman, Jon Pearce and Guy Davis, turned heads with a debut that was every bit as high octane as its title would suggest. Produced by Jason Wilson at Stakeout Studios, the record saw the band thrash-out their frenetic, scattergun sound; drawing on eclectic influences from nu-metal to math rock, grunge to emo. Forging 16 tracks with a perfectly-placed pop/rock nous at their heart, 'Racecar is Racecar Backwards' immediately earmarked Reuben as an essential new band and one unafraid to break the rules. Shedding monstrous singles including "Freddy Kreuger", "Stuck In My Throat" and "Moving To Blackwater", the band blindsided the Official Singles Chart and mainstream media like BBC Radio1 & MTV2, and even earned a nomination for "Best British Newcomer" at the Kerrang! Awards.
Wasting little time to rest on their laurels, the band launched headlong into its exhilarating follow-up, 2005's: 'Very Fast Very Dangerous'. Catapulting straight to No.4 in the UK Rock Charts, singles like "Blamethrower", "Keep It To Yourself" and "A Kick In The Mouth", accelerated the band from gutsy underdogs to people's alt/rock champions. Releasing just one further record together following 'Very Fast…', in their short, breakneck journey as a band, Reuben cemented an enduring cult status in their devoted fans, while inspiring a new generation of alt-rock acolytes for years to come. The trio called an indefinite hiatus in 2008.
Reflecting on those first two records and that crucial time for Reuben, frontman Jamie Lenman says:
"Those two records are very different but they came out a year after each other and they're the two we did with Xtra Mile so I think they belong together, and they belong to Xtra Mile. We spent years making 'Racecar' so that's why it's so varied and maybe a bit too long – we were very precious about our songs and we wanted them all on the thing. By the time we did 'Very Fast' we'd grown up a lot in a short space of time – we had a vague idea that an album should be more of a concept, which is why it's a bit more 'rock and roll' with the truck and everything. The second one was a reaction to the first one, we wanted to get away from long, complex songs. And then we went and put our longest song on it!"
With both albums strictly limited vinyl releases at the time and long since out-of-press, the 'Racecar Is Very Fast' set promises to be a prized addition to any Reuben fan's collection. Stamped with the band's full seal of approval, the set includes exclusive new artwork direct from the hand of the band's own: Jamie Lenman, plus a new reflective essay from journalist and supporter James Hickie. As Lenman says of the new release:
"People kept asking me where they could buy the first two records on vinyl, and I didn't even realise they were sold out, so I asked Xtra Mile about doing a re-press. I thought it would be cool to put together a two-pack, like you used to get in record stores when I was a kid, where you'd get two albums by the same band bundled together… I did some snazzy new artwork especially for the front cover and commissioned a short critical essay for the back. If you missed out on the original pressings then here they are. And if you're a real collector you might buy it just for the new artwork – I know I would!"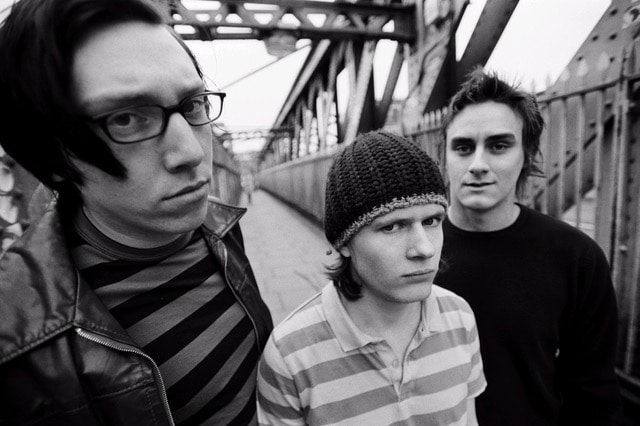 REUBEN WILL RELEASE: 'RACECAR IS VERY FAST' ON, 11 DECEMBER 2020
VIA XTRA MILE RECORDINGS PRE-ORDER

HERE
In celebration of the release, the band will be inviting fans to join them online for a Twitter Listening Party, listening to both albums back to back in unison and sharing memories of that seminal era. Join in with #RCIVF